ViewSonic netbooks & 22-inch notebook soon for China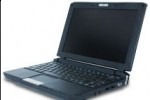 According to Taiwanese industry sources, ViewSonic is preparing to launch its range of netbooks and notebooks in China, including a 22-inch behemoth notebook.  The company, which is better known for its LCD monitors, is seemingly looking to fight the downturn by branching out; it's unclear whether the new computer range will be self-developed or merely rebadged OEM systems.
Scant details about the upcoming ViewSonic range have been disclosed, and the company themselves are yet to comment.  ViewSonic have already shown a 10.2-inch Atom N270-based netbook, though the 22-inch model is more unusual and could be more of an all-in-one style hybrid designed for rare transportation.
Rival TPV have picked a different tactic; though their mainstay field is monitors, they've begun small-scale netbook sales.  TPV have been bundling a small-display netbook with a large LCD, billing it as the ideal combination: something to use when traveling, and a bigger display to plug in when you're back at home or in the office.