ViewSonic MB-P702 PMP/ereader surprises by not being a tablet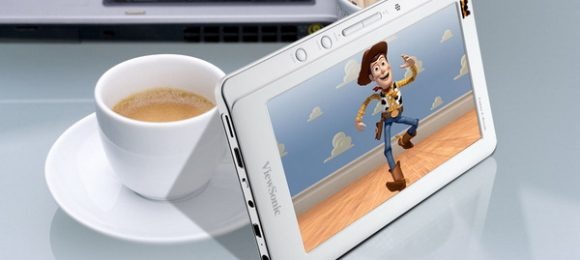 We'll admit, we were so intrigued by ViewSonic's ViewPad 7 and ViewPad 100 last week, we didn't spot their MB-P702 PMP/ereader at the booth.  According to imp3, the 7-inch slate may look like yet another tablet, but actually it's a whole lot more focussed than the similarly-sized ViewPad 7.  No Android, no web browsing or Google Maps; just 1080p HD video playback with an HDMI output.
There's a fair amount of codec support, as you'd expect, with the MB-P702 handling RM, RMVB, AVI, MOV, WMV, MKV, VOB and other video formats together with MP3, WMA, APE and FLAC Lossless in audio.  Ebook files in PDF, TXT, EPUB, CHM, HTML, PDB and UMD can be viewed, and the MB-P702 supports handwriting annotation of PDF files.
The display runs at 800 x 480 resolution, which seems a little on the low side given the size, and you can show photos and play any of 256 preloaded games.  No word on pricing, but we're guessing ViewSonic will be positioning the MB-P702 considerably lower than the sub-£350 ViewPad 7.
[via MP4 Nation]