ViewSonic G Tablet Features Android 2.2 & NVIDIA Tegra 2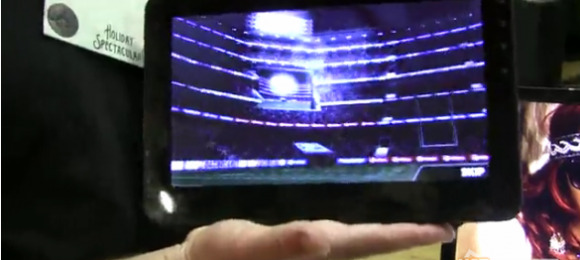 ViewSonic is on a roll with their tablet creations. Having just seen the ViewSonic ViewPad at this year's IFA, and noticing that it dual-boots Windows and Android, we're shocked to see that this other 10-inch display tablet isn't that. In fact, it doesn't even dual-boot Operating Systems. Instead, it angles for a more pristine Android 2.2 approach, all of which you'll enjoy on a ten-inch display.
The feature list doesn't stop with the mobile Operating System (OS), though. Also inside, you'll find NVIDIA's Tegra 2 processor, and 1GB of RAM. The resolution of that display is 1,024 x 600, and you'll find ports for both USB and HDMI. Bluetooth 2.1 is on board, as is integrated 802.11 n WiFi. There's a 1.3MP camera on the back of the tablet, and you'll find plenty of space with the 16GB of storage on board. And yes, NVIDIA's Tegra 2 is inside, too.
The tablet is reportedly able to play back 1080p media without a problem, so all you HD fans out there should be pretty pleased with that aspect, if you do decide on a tablet with the ViewSonic label on it. The expected retail landing date is some time in October, and the price tag has been marked at $429. There's a video below that you should check out, as you contemplate whether or not that price is a bit too high or not.
[via Hot Hardware]