Video Telescope ideal for long distance cat spotting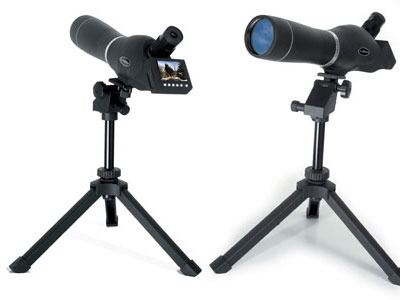 Whenever I'm spying on people, I often wish two things.  Firstly, that I had some sort of combination telescope-cum-video-camera, and secondly that I had the awesome power of mind-control.  This gadget will certainly help with the former, but for the latter I'm going to have to keep sacrificing goats and lost children to the Dark Lords.  Oh well, it saves on firewood.
Yes, it's a telescope – actually it's a 15x to 45x magnification telescope with a 60mm diameter lens – and it's got a digital video camera strapped to the end of it.  Sadly you only get 3.1 megapixels for your $449.95, as well as a 2.5" screen, SD slot and remote control.
The case, incidentally, is made by the same people who manufacture binocular and telescope cases for spy agencies around the world, or so they claim.  However, having never seen a spy's telescope I don't know if that's a good thing or otherwise.  Spies could have really crappy taste, after all.
It's available now.