VIBE SPACE 3D speakers & BlackBox Bass Amps available in US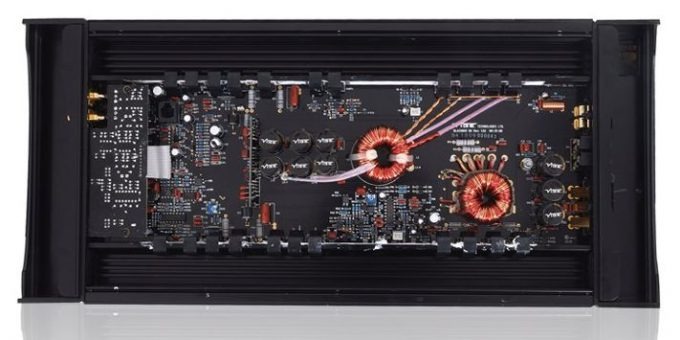 UK car audio specialists VIBE have launched their speaker and amplifier ranges in the US, beginning with the SPACE 3D component speakers and BlackBox Bass amplifiers.  The VIBE SPACE 3D speaker range consists of either a two or three component setup, based around a 45mm midrange and a 38mm super tweeter, with the choice of either a 5- or 6-inch main driver.  VIBE used the 3D system as part of their demo Audio R8, which was the 2008 Mobile Electronics News "Demo Car of the Year".
The rear of the tweeter is designed so it fits on top of the midrange, thereby acting as a diffuser for 360 degree dispersed sound.  Each 5- or 6-inch driver features a 0.15mm thick high fidelity alloy cone, dual layer progressive PU surround, cast aluminum basket, and passive and switchable 3-way crossover.
There are two BlackBox Bass amplifiers, meanwhile, the Bass 4 and Bass 5.  Each uses a hybrid of both Class G and Class H technology which VIBE call, somewhat predictable, Class GH; this combines both power voltage switching and input-based modulation, adding up to high power-efficiency and sound quality.  The Bass 4 offers 900w RMS at 2 ohms while the Bass 5 offers 1500 watts at 2 ohm.
Press Release:
VIBE SPACE 3D Component Speakers

Midbass/VIBE Vibe are proud to announce the launch of the SPACE 3D component speakers.

The latest project from VIBE R&D takes the after sales car component market into a whole new dimension. Designed without compromise the SPACE 3D is at the pinnacle of that market and the VIBE range.

SPACE components are a three-way speaker set up; a 45mm midrange and a 38mm super tweeter, with the choice of either; a 5 or 6 inch main driver. Common features for the 5 and 6 inch units include; 0.15mm thick high fidelity alloy cone, dual layer progressive PU surround, cast aluminum basket, passive and switchable 3-way crossover and VIBE's own "Mechanical Thermal Unity" where the aluminum voice coil former transfers heat to the woofer cone which acts as an additional thermal conductor.

The 45mm midrange driver also features a 0.15mm thick alloy cone while the super tweeter utilizes a silk dome.

The truly unique aspect of these speakers is the fact that the rear of the tweeter is designed so it can be placed over the top of the midrange acting as a diffuser – giving true 360 degree dispersed sound.

The SPACE 3D offers exceptional sound quality, clarity and definition which is second to none and demands to be heard. Music is brought to life as the three perfectly matched components work in harmony to deliver music exactly the way the artist intended.

SPACE speakers can be bought either as; a three way component kit (with either a five or six inch main driver), or as the 3D kit – comprising of only the midrange and tweeter.

As fitted to the 2008 Mobile Electronics News "Demo Car of the Year" the VIBE Audi R8

Technical Information

Space 5

Type: 3-way component kit
Speaker Size: 5"
RMS Power: 110w
Peak Power: 330w
Sensitivity: 87dB
Freq. Response: 60Hz – 35kHz
Impedance: 4 Ohm
Magnet Material: Ferrite
Magnet Weight: 10oz

Space 6

Type: 3-way component kit
Speaker Size: 6"
RMS Power: 130w
Peak Power: 390w
Sensitivity: 88dB
Freq. Response: 50Hz – 35kHz
Impedance: 4 Ohm
Magnet Material: Ferrite
Magnet Weight 13oz

Space 3D

Type: 2-way component kit
Speaker Size: 3"
RMS Power: 70w
Peak Power: 210w
Sensitivity: 86dB
Freq. Response: 2kHz – 35kHz
Impedance: 4 Ohm
Magnet Material: Ferrite
Magnet Weight: 0.3oz

Features

Alloy gasket

Steel mesh grill

Silk dome tweeter

Dual roll PU surround

High fidelity 0.15mm thick alloy cone

Single spider

Cast alloy basket

Screw down terminals

Speed Bass

3 Way switchable crossover

Mechanical Thermal Unity
Press Release:
VIBE BlackBox Bass Amplifiers

Vibe are proud to announce their BlackBox Bass amplifiers featuring award winning Class GH Technology.

What is Class GH? Class GH is a hybrid of both Class G and Class H. Class G operation involves changing the power supply voltage from a lower level to a higher level when larger output swings are required. This involves a single class AB output stage that is connected to two power supply rails by a diode, or a transistor switch. Using two power supplies improves efficiency enough to allow significantly more power when compared to traditional Class AB or Class D amplifiers. Class G technology is becoming more common in professional recording studios. Class H operation takes the G design one step further and actually modulates the higher power supply voltage by the input signal. This allows the power supply to track the audio input and provide just enough voltage for optimum operation of the output devices.

VIBE BlackBox Bass Hybrid Class GH amplifiers combine the best of both these new technologies to produce an amplifier that has all the efficiency benefits of a Class D amplifier with the smooth sound of a Class AB amplifier. Without technical jargon this means that sound quality blows away Class D amplifiers combined with a 73% efficiency compared to 50% efficiency of Class AB.

There are two mono block amplifiers in the Bass range – the BlackBox Bass 4 which offers 900w RMS at 2 ohms and the BlackBox 5 which offers a massive 1500 watts at 2 ohm.

The BlackBox bass amplifiers also offer you the option of linking two of these units together which would give you a true 3000w RMS at 2ohm, perfect if your interested in SPL.

VIBE were awarding the gold Product Innovation Award at the 2008 Mobile Electronics News awards – the most prestigious in car electronics showcase in the UK – for Class GH Technology

Technical Information

BlackBox Bass 4

Height 57mm
Width 394mm
Depth 224mm
Max Power 1800w
RMS Out @ 4ohm 450w
RMS Out @ 2ohm 900w
RMS Out @ 1ohm 800w
Signal to noise ratio 113dB
Frequency Response 10 – 500Hz
Harmonic Distortion 0.1%
Crossover Type LP/Subsonic
Crossover Range 30 – 250Hz
Crossover Slope 24dB
Bass Enhance 15dB

BlackBox Bass 5

Height 57mm
Width 476mm
Depth 224mm
Max Power 3000w
RMS Out @ 4ohm 750w
RMS Out @ 2ohm 1500w
RMS Out @ 1ohm 1350w
Signal to noise ratio 94dB
Frequency Response 10 – 500Hz
Harmonic Distortion 0.1%
Crossover Type LP/Subsonic
Crossover Range 30 – 250Hz
Crossover Slope 24dB
Bass Enhance 15dB

Features

Hybrid class GH technology

Sound quality of class AB amplifiers

Efficiency of class D amplifiers

DSP (Digital Sound Processing) controlled amplifier

Unprecedented sound quality for huge power BASS amps

Advanced 4 layer circuit boards

True mono design for optimum single channel driving

Maximum power delivered at 2ohm as opposed to unstable high distortion 1 ohm amps

24dB per octave low pass crossovers

Crossover range 30Hz – 250Hz

Subsonic filters to remove unwanted frequencies 10Hz – 80Hz

Excellent signal to noise ratio 114dB

Total harmonic distortion as low as 0.1%

Fan assisted ICC Internal Convection Cooling

0-180 degree phase switch

Parametric Bass Enhance variable between 10Hz and 125Hz

Strapable amplifier circuit allows 2 amps to be combined as 1 big amplifier

Strapable amplifier circuit allows an unlimited chain of amplifiers to be connected via a single input

Alloy end caps with illuminated BlackBox logo that indicates amplifier status

Remote control BBR1 included