VIA VB8002 HD Media Server Mini-ITX Board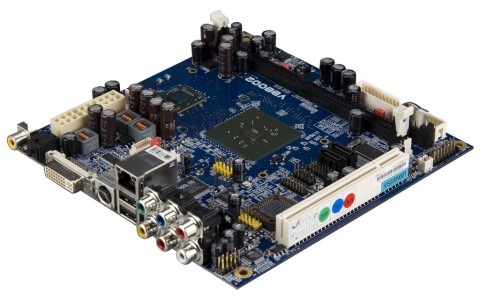 VIA have announced a new media server Mini-ITX board, the VIA VB8002, running the company's 1.6GHz Nano processor and offering HDTV output and 7.1 HD surround sound.  The VB8002 uses VIA's CX700M2 media system processor, and should be able to connect with pretty much any display you have, digital or analog: ports include DVI, S-Video, component and composite, together with coaxial and optical S/PDIF for digital audio.
There are also headers on the VB8002 for connecting to LVDS and SCART TVs.  Other connections include gigabit ethernet, two SATA ports, a single PCI slot, two USB 2.0 ports (plus headers for four more) and audio in/out headers.  The 17cm-square board will take up to 1GB of DDR2 RAM and play nicely with Windows XP, XPe, CE, and Linux operating systems.
VIA envisage the VB8002 as being picked up by those looking to build media storage devices that can also stream high-definition content around their home.  No word on pricing or availability as yet. 
Update: VIA tell us that the VB8002 will be availble in around a month's time, with an MRSP of $180 but a street price closer to $109.
Press Release:
VIA Nano Processor Brings Higher Performance to Media Servers

The new VIA VB8002 Mini-ITX board upgrades home media server platforms with the higher performance efficiency of the VIA Nano processor

Taipei, Taiwan, April 30, 2009 – VIA Technologies, Inc, a leading innovator of power efficient x86 processor platforms, today announces the VIA VB8002 Mini-ITX board targeted at media server markets. The VIA VB8002 brings the superior performance efficiency of the VIA Nano processor to consumer-focused server products that require the right blend of power efficiency and raw processing performance.

The VIA VB8002 Mini-ITX board continues VIA's drive into compact, power-efficient multimedia server markets and is designed to meet the needs of consumers who not only want to securely store, manage and share their media libraries, but also stream high quality content in their homes.

"The VIA Nano processor is ideally suited to server applications that require superb performance in tandem with great power efficiency," said Daniel Wu, Vice President, VIA Embedded Platform Division, VIA Technologies, Inc. "We are convinced that the VIA VB8002 board will be applauded by system integrators as the most well balanced, feature-rich media server platform available."

Equipped with the advanced 1.6GHz VIA Nano processor and unified VIA CX700M2 media system processor, the 17cm x 17cm Mini-ITX form factor VIA VB8002 brings superb multimedia performance to a comprehensive feature set, offering system integrators the ultimate media server solution.

With an onboard digital HDTV encoder for high-definition video resolutions, VIA Vinyl 7.1 channel HD audio for a rich audio experience and a range of consumer I/O options including composite and component RCA ports, DVI and S-Video ports, S/PDIF audio, and onboard connectors for LVDS and TV out, the VIA VB8002 is well equipped for today's digital media applications.

About the VIA Nano Processor

Building on the market-leading energy efficiency of the VIA C7 processor family, the new VIA Nano processor uses a 64-bit, out of order, superscalar architecture that has been specifically designed to deliver truly optimized performance for the most demanding multimedia and entertainment applications.

The VIA Nano processor places significant emphasis on high-performance floating-point execution, using a completely new algorithm for floating-point calculations that helps facilitate smooth playback of high resolution, advanced video codecs.

The excellent computational performance of the VIA Nano processor is coupled with aggressive thermal and power management, naturally resulting in a market leading performance-per-watt ratio. Thus the VIA Nano processor addresses the need for enhanced stability and lower energy consumption in consumer device design.

For more information about the VIA Nano processor please visit:

About the VIA VB8002 Mini-ITX Board

The VIA VB8002 Mini-ITX board is powered by a 1.6GHz VIA Nano processor and the VIA CX700M2 media system processor, bringing advanced digital multimedia performance and support for a wide range of digital media technologies appropriate for the wider consumer electronics market.

The VIA VB8002 integrates a number of digital media features, including an onboard HDTV encoder which utilizes an advanced ASIC with VIA's Advance ProScale® Technology to scale regular input resolutions up to standard HDTV resolution output. The VIA UniChrome Pro II integrated graphics processor (IGP) supports hardware MPEG-2/-4 and WMV9 acceleration and includes the Chromotion™ CE engine for crystal clear video playback.

A plethora of I/O configurations are possible with back panel I/O connectors for DVI, S-Video and component and composite RCA outputs as well as coaxial and optical S/PDIF connectors for unparalleled display and TV connectivity. On board pin headers include support for LVDS and TV out for SCART (with optional D-terminal also included). Two S-ATA ports provide ample storage while onboard Gigabit Ethernet ensures fast data transfer speeds and smooth media streaming.

The VIA VB8002 supports Microsoft Windows XP, XPe, CE, and Linux operating systems.