VIA VB8001 Mini-ITX board with Nano processor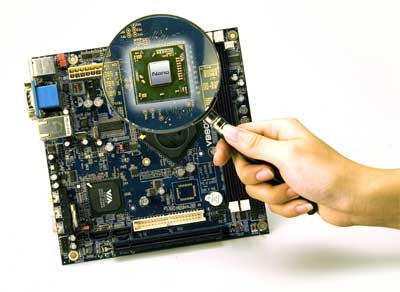 VIA have taken the wraps off of their first Mini-ITX board to use the company's Nano processor, the replacement to the low-power C7-M.  The VIA VB8001 board features the 1.6GHz processor itself, support for up to 4GB of DDR2 RAM, gigabit ethernet and two SATA ports.  There's also a mini-PC slot for adding wireless broadband cards. 
Multimedia is handled by the company's CN896 digital media IGP chipset, with an integrated Chrome9 graphics accelerator for DirectX 9.0 3D graphics, and support for VIA Vinyl 5.1 Audio.  There's also a 16-lane PCI Express slot for third-party video cards.
The board is going on display at the Embedded Systems Conference, held in Boston this week, and is being positioned as a way for manufacturers to offer 64-bit performance while minimizing thermal output.  No pricing for the VB8001 has been announced.
Press Release:
VIA Demos First VIA Nano Processor Board at ESC Boston 2008

VIA VB8001 pairs new VIA Nano processor with 16-lane PCI Express for true optimized computing

Boston, MA, USA, 27 October 2008 – VIA Technologies, Inc, a leading innovator and developer of silicon chip technologies and embedded platform solutions, today announced it will be demonstrating the first VIA Nano processor-based Mini-ITX board this week at the Embedded Systems Conference, Boston, MA in booth 914.

The VIA VB8001 board is a full featured Mini-ITX board using the eagerly-awaited 1.6GHz VIA Nano processor, which boasts support for up to 4GB of DDR2 memory, Gigabit LAN and two Serial ATA ports, delivering exceptional 64-bit performance within a rigidly low thermal envelope, while a mini-PC slot can extend connectivity to wireless broadband.

The VIA CN896 digital media IGP chipset provides for a rich multimedia experience, with its integrated Chrome9™ graphics accelerator for DirectX 9.0 3D graphics, and support for VIA Vinyl 5.1 Audio and popular add-in graphics cards through the 16-lane PCI Express slot, opening up a new realm of optimized and small form factor desktop PC designs.

"We are delighted to bring the first VIA Nano processor based product to our customers," said Daniel Wu, Vice President, VIA Embedded Platform Division, VIA Technologies, Inc. "The VIA Nano processor offers the perfect balance of performance, features and power efficiency for truly optimized computing."

ESC attendees can also view the forthcoming Pico-ITXe form factor, a flexible design standard designed to take advantage of the I/O-centric Stackable Unified Module Interconnect Technology™, a serial expansion approach to embedded system design that uses specially designed connectors and stacking technology. Also on show will be the latest system and board level products, including the forthcoming VIA VIPRO, a thin and durable all-in-one touch panel system, and VIA's new segment specific NAS and NAB boards.

The VIA VB8001 is sampling now; for more information please visit:

For more information about VIA's participation at ESC Boston 2008 please visit: http://www.via.com.tw/en/company/events/2008-esc-boston/index.jsp