VIA S3 Graphics Chrome 540 GTX for HDMI, DisplayPort & DVI HD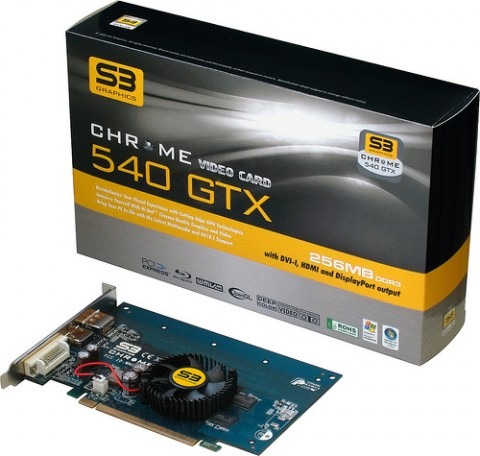 VIA have announced the S3 Graphics Chrome 540 GTX, which they're calling the world's most-connected high-definition video card.  The card has HDMI, DisplayPort and Dual-Link DVI connections, together with an integrated Dolby 7.1 digital surround sound processor and 256MB of GDDR3 memory.
That, claim VIA, makes it ideal for turning a regular PC into an HD powerhouse, capable of Dual-Stream Blu-ray and HD video, image post-processing and color enhancement, and DirectX 10.1 and OpenGL 3.0.  It's also apparently eco-friendly, with PowerWise technology that reduces heat output.
In fact VIA say that the card scores higher in 3DMark06 than an ATI Radeon HD 4350, and uses less CPU during HD playback than an NVIDIA GeForce 8600.  The VIA S3 Graphics Chrome 540 GTX is available now, priced at just $69.95.  It comes complete with a DVI to VGA adapter.
Press Release:
S3 Graphics Chrome 540 GTX: The World's Most Connected Hi-Def Card

HDMI, DisplayPort and DVI unite on the Chrome 540 GTX to offer the ultimate in affordable HD playback

Fremont, California, February 12, 2009 – S3 Graphics today announced the latest addition to its power-efficient Chrome 500 Series graphics processor family, with the unveiling of an 850MHz clocked GDDR3 based Chrome 540 GTX. Today's users can convert an ordinary PC into a Hi-Def entertainment powerhouse for Dual-Stream Blu-ray™ and HD videos, using the newly defined DisplayPort digital interface, HDMI and Dual-Link DVI for seamless connectivity to the latest digital monitors and HDTVs.

Today's multimedia enthusiasts require extra GPU horsepower to perform high-quality HD video decoding, image post-processing, and stunning color enhancement when displaying the latest HD content on Blu-ray or streaming video-on-demand. With the Chrome 540 GTX, you now have the power to bring every movie experience to life, and enjoy bonus footage through Picture-in-Picture, all while enjoying 8 channels of high fidelity audio with the S3 Graphics built-in Dolby® 7.1 digital surround sound processor.

DirectX® 10.1 and OpenGL 3.0 applications on Microsoft® Windows® and Linux platforms can be effectively run using the Chrome 540 GTX programmable shader cores to speed up 3D games, non-gaming rendering applications, and other visual processing functions using the built-in GPGPU engine.

Add-in cards featuring the Chrome 540 GTX, bundled free with WinDVD8 for Blu-ray playback, are now available on S3 Graphics GStore online retail outlet.

"S3 Graphics has continued to introduce new visualization technologies to the market by adding another feature-rich product to our growing portfolio of key graphics and display processors," said Dr. Ken Weng, GM for S3 Graphics. "Our new Chrome 540 GTX card brings features usually found only in enthusiast grade products to mainstream users, making the latest innovative technologies available to all."

Hi-Def Like Never Before

The S3 Graphics Chrome 540 GTX gives multimedia users the perfect balance of DirectX 10.1 / OpenGL 3.0 graphics performance, high-quality Picture-in-Picture Blu-ray playback, and a high-speed, high-throughput 64-bit GDDR3 memory bus interface running at 850 MHz. Display connections use the latest VESA DisplayPort standard, HDMI, dual-link DVI-I, and an optional CRT interface using a DVI-to-CRT dongle for the latest high resolution display support.

The Chrome 540 GTX incorporates a high performance ChromotionHD™ 2.0 video processor unit (VPU), advanced filtering, and clear-image post-processing to perform ultra smooth decoding of MPEG-4/AVC (H.264), MPEG-2, and VC-1 for Blu-ray and HD video. To further enhance operation for home theatre and CE applications that demand cool-and-quiet operation, the Chrome 540 GTX features PowerWise™ technology for Green Computing to "Reduce the Heat" without compromising performance, features, or quality.

More information on the S3 Graphics Chrome 540 GTX may be found on the S3 Graphics website at: http://www.s3graphics.com/en/products/chrome_540gtx/