VIA IVP-7500 in-car fanless PC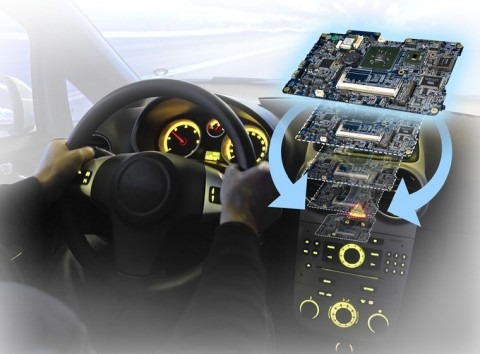 VIA have announced the VIA IVP-7500 board, what it's calling the first in a series of dedicated x86-based in-car PC platforms.  Based on a fanless 1.0GHz VIA Eden CPU and supporting up to 1GB of DDR2 memory, the IVP-7500 measures 114 x 185.5mm and can be embedded in the dashboard, fitted to a one- or two-DIN radio-sized box, or hidden in the seat or headrest.
VIA expect the IVP-7500 to be used for audio and video playback, GPS, video camera monitoring and more.  Meanwhile commercial customers could use the board for license plate recognition and fleet management.  Standard connectivity includes an LCD (TTL) panel interface, TV-out and VGA outputs and camera ports including A/V (via mini-USB) and V-CAM.
There's also an IDE 1.8-inch hard-drive connector, SD card support, optional speaker outputs and microphone input for the onboard HD audio, a GPS module, FM stereo transmitter and Bluetooth.  Finally there are two USB 2.0 ports, a serial COM port and an infra-red adapter.  No word on pricing or general availability, but VIA is currently sampling the IVP-7500.
Press Release:
New VIA In-Vehicle Platform for Driving Next-Generation Car PCs

VIA IVP-7500 board with advanced multimedia features offers system integrators

the perfect in-vehicle PC platform

Taipei, Taiwan, March 19, 2009 – VIA Technologies, Inc, a leading innovator of power efficient x86 processor platforms, today released the VIA IVP-7500 board, the first in a series of dedicated x86 in-vehicle platforms for developers of car PCs and intelligent transportation devices.

The continued evolution of the PC as a multimedia playback device for audio and video entertainment means that car owners are now demanding access to their digital media library whilst on the road. In-vehicle PCs offers access to intelligent global satellite positioning services for accurate location tracking, route planning and navigation.

Today's cutting-edge consumer can employ in-car mounted cameras for video assisted parking and highway surveillance recording, while commercial customers can have access to license plate recognition, fleet management, digital tachograph, odometer and security applications.

Designed from the ground up for the rigours of in-vehicle computing, the VIA IVP-7500 is a versatile, scalable and highly power-efficient processor platform with strong multimedia performance. Customers have the option of fanless designs implementations for industrial and grade stability. The flexible VIA IVP-7500 measures 114mm x 185.5mm and can be employed in a variety of dashboard implementations, including one or two DIN designs as well as discrete, in-seat and headrest designs.

"Intelligent transportation devices are making the transition from an enthusiast to mainstream audience," said Daniel Wu, Vice President, VIA Embedded, VIA Technologies, Inc. "The VIA IVP-7500 carries our expertise in developing stable, compact, energy-efficient systems to this high-growth sector, bringing with it faster product development cycles and the flexibility to offer consumers more than just a car PC."

About the VIA IVP-7500 Board

The VIA IVP-7500 is powered by a fanless 1.0GHz VIA Eden processor and supports up to 1GB of DDR2 system memory. A range of display technologies are supported including an LCD (TTL) panel interface, TV-out and VGA outputs and camera ports including A/V (via mini-USB) and V-CAM for monitoring applications.

Storage includes IDE 1.8" hard drive support with FFC cable and SD card support. HD audio is provided with optional SPK (R+L) and Mic-in connectors.

Communications technologies include a GPS module with IPEX antenna, an FM stereo transmitter and Bluetooth. Two USB 2.0 ports plus a COM port are included as well as an infra red adapter for hands-free applications.

VIA is currently offering samples of the VIA IVP-7500 board to project customers. For more information please visit: