VIA fanless 500MHz PX5000EG Pico-ITX board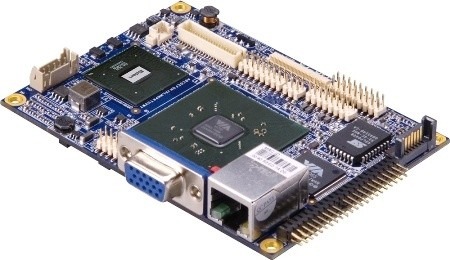 VIA has dropped its already-compact Pico-ITX boards into a hot wash and come up with the PX5000EG, measuring in at just 3.9 x 2.8-inches.  The small size is due to VIA dropping the processor speed down to just 500MHz (compared to the existing 1GHz PX1000G) and thus being able to leave off any active cooling.  It'll still support up to 1GB of RAM, though, and has hardware MPEG-2/-4 and WMV9 hardware decoding acceleration. 
The PX5000EG actually uses one of the company's Eden ULV processors and the VIA UniChrome Pro II IGP 3D/2D graphics core; power consumption is a miserly 13W.  Connectivity includes one SATA and one UltraDMA 133 connector, 10/100 ethernet, an LVDS/DVI connector and USB 2.0, COM and PS2.  A multimedia connector supports external TV-out, video capture port interface & LPC interface (an add-on card is required), while an audio connector supports line-out, line-in, mic-in, S/PDIF in & 7.1 channel audio output.
VIA is currently running a competition where entrants must guess how long a PX5000EG board can operate, playing an MPEG-4 video continuously, without any form of cooling in place.  The winner gets an ARTiGO system builder kit based on a Pico-ITX board.  It's open for entries until May 21st.
[via Engadget]