VIA EPIA-T700 Is First 6x6cm Mobile-ITX 'Board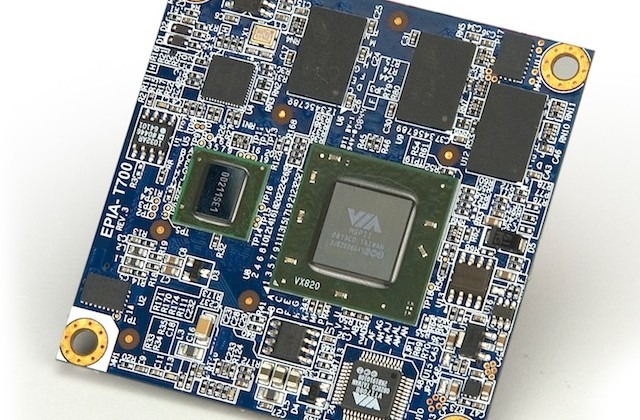 Remember VIA's Mobile-ITX form factor, the 6 x 6 cm board format announced back in December 2009?  Back then the computer-on-system module was more about proof of concept than production product; that's all changed with the VIA EPIA-T700, packing a specially-miniturized 1GHz VIA Eden ULV processor, 512MB of RAM and VIA Chrome9 DX9 GPU.
Video demo after the cut
There's also a companion carrier I/O board onto which the T700 drops, in case the onboard LCD/CRT connection isn't enough display flexibility.  The T700 also has PCI Express and Ultra DMA integrated, but companies are expected to develop custom carrier boards suited for specific compact installations.
VIA reckon the EPIA-T700 will find a place in industrial, educational and in-car systems, though we reckon there'll be a few home users eyeing it for media PC purposes.  No word on how much it – or the carrier I/O board – will cost.
Press Release:
VIA Revolutionizes Compact Embedded Design with the World's First Mobile-ITX Module

Introducing the VIA EPIA-T700, the first 6cm x 6cm computer-on-module based on the Mobile-ITX form factor

Taipei, Taiwan, January 19, 2010 – VIA Technologies, Inc, a leading innovator of power efficient x86 processor platforms, today announced the VIA EPIA-T700: the first product based on the recently announced Mobile-ITX form factor. Measuring a mere 6cm x 6cm, the VIA EPIA-T700 is a uniquely compact computer-on-module that is designed for a range of ultra-compact embedded devices in medical, military and in-vehicle applications.

Designed to deliver a simple modular approach to device design that precipitates greater miniaturization and portability, the Mobile-ITX-based VIA EPIA-T700 makes it easier than ever before to design and manufacture compact devices. With customized carrier boards connected using ultra low profile 3mm connectors, the VIA EPIA-T700 is in a class of its own.

"The VIA EPIA-T700 takes advantage of the modular design principles inherent in our Mobile-ITX form factor specification, making it easier than ever before to create astonishingly compact x86 devices that don't compromise on features," said Daniel Wu, Vice President, VIA Embedded Platform Division, VIA Technologies, Inc.

VIA EPIA-T700

The VIA EPIA-T700 can be used with a variety of carrier boards that can be adapted and customized to meet the needs of a range of applications and is powered by a specially miniaturized 1GHz VIA Eden ULV processor and the compact VIA VX820 MSP that together offer industry-leading I/O flexibility in the most compact of available form factors. The VIA EPIA-T700 features 512MB of DDR2 on-board system memory, meaning compatibility and reliability are guaranteed.

The VIA VX820 media system processor adds a wealth of key features including the VIA Chrome9 DX9 integrated graphics core, the VIA Chromotion™ video engine with hardware acceleration of MPEG-2, MPEG-4, WMV9, and VC1video formats, and VIA Vinyl HD Audio supporting up to eight channels of HD audio.

An integrated multi-configuration transmitter enables display connection to TTL LCD panels and CRT monitors. Added flexibility is provided through carrier board configurations that integrate the DVP interface to include LVDS and DVI support. Other integrated data bus technologies include PCI Express and Ultra DMA.

The VIA EPIA-T700 uses two unique high density, low profile connectors on the under side of the module that can also withstand vibrations of up to 5Gs making Mobile-ITX systems suitable for in-vehicle and industrial machining applications.

For more information regarding the VIA EPIA-T700 computer-on-module please visit:

For images of the VIA EPIA-T700 please go to:

To view a video of the VIA EPIA-T700 please visit:

Mobile-ITX – The Science of Small

Extending VIA's reputation as a leading innovator and creator of ultra-compact form factors, Mobile-ITX at 6cm x 6cm is currently the most compact computer-on-module form factor on the market; an incredible 50% smaller than the successful VIA-developed Pico-ITX form factor.

Mobile-ITX employs a modularized design that includes a CPU module card and an I/O carrier board. This offers greater flexibility for developers who can simply drop in the CPU module to a custom designed, application specific carrier board, negating lengthy developmental design and testing phases.

More details about the Mobile-ITX form factor may be found at the VIA website along with a detailed "Mobile-ITX Form Factor" white paper:

www.via.com.tw/en/initiatives/spearhead/mobile-itx/

About VIA Technologies, Inc.

VIA Technologies, Inc is the foremost fabless supplier of power efficient x86 processor platforms that are driving system innovation in the PC, client, ultra mobile and embedded markets. Combining energy-saving processors with digital media chipsets and advanced connectivity, multimedia and networking silicon enables a broad spectrum of computing and communication platforms, including its widely acclaimed ultra compact mainboards. Headquartered in Taipei, Taiwan, VIA's global network links the high tech centers of the US, Europe and Asia, and its customer base includes the world's top OEMs and system integrators. www.via.com.tw