VIA EPIA N700: Lowest-Profile Nano-ITX Board Yet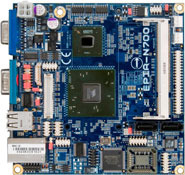 VIA have taken the wraps off of another Nano-ITX board, the EPIA N700, the first with the company's VX800 unified all-in-one media system processor.  With a choice of 1.5GHz VIA C7 or 500MHz VIA Eden processors, what makes the N700 so compact is that video, graphics and connectivity are all handled by the VX800 chip.  Just 33 x 33m, it includes a VIA Chrome 9 graphics core and HD video processor.
All that adds up to the lowest-profile Nano-ITX board available to date.  Nonetheless, there are still plenty of real ports (rather than just pin headers or breakout boards): two SATA ports, a Gigabit LAN port, a COM port, two USB 2.0 ports and a VGA port are provided.  Pin headers provide for additional COM, LVDS and IDE connections.
Maximum RAM supported is a healthy 2GB of DDR2 667MHz, and VIA's hardware-based PadLock Security Engine for encryption is included.  It should be available through resellers in September, prices to be announced.
Press Release:
VIA Announces First Nano-ITX Board with VIA VX800

The VIA EPIA N700 features the latest VX800 unified all-in-one media system processor and extended I/O ports for reduced cabling in tight spaces

Taipei, Taiwan, 15 August 2008 – VIA Technologies, Inc, a leading innovator of power efficient x86 processor platforms, today announced the VIA EPIA N700 Nano-ITX board, designed as a complete solution for compact industrial PC and embedded automation devices. Featuring a 1.5GHz VIA C7 or 500MHz VIA Eden processor, the VIA EPIA N700 is the first Nano-ITX board to feature the latest VIA VX800 media system processor, offering system designers the perfect balance of ruthless miniaturization and uncompromising functionality.

Compact, yet user friendly, the VIA EPIA N700 uses additional onboard ports to make system design of compact PCs easier; two S-ATA ports, a Gigabit LAN port, a COM port, two USB 2.0 ports and a VGA port are provided, with additional COM, LVDS and IDE support available through onboard pin-headers. With the VX800 offering an integrated DX9 graphics core and excellent hardware accelerated video playback, this compact, low heat, power-efficient board is the ultimate solution for designing low heat, compact systems.

The VIA EPIA N700 is the lowest profile Nano-ITX board ever. The addition of onboard VGA, USB, COM and Gigabit network ports on this compact board helps to reduce cluttered cabling, adding improved air-flow for enhanced stability in always-on systems and a further reduced system foot-print. The VIA EPIA N700 requires only a single 4-pin power cable as its sole power source, again saving space, while the external CMOS battery allows flexible, efficient placement within the chassis.

"The VIA EPIA N700 Nano-ITX board has been specially developed to excel in space constrained environments while offering an extensive feature set based around the VIA VX800," said Daniel Wu, Vice President, VIA Embedded Platform Division, VIA Technologies, Inc. "Through listening carefully to customers, we're confident that we've made the VIA EPIA N700 as user friendly as possible".

The VIA VX800 Media System Processor

The VIA EPIA N700 is equipped with the latest VIA VX800 media system processor, an all-in-one, highly integrated digital media IGP chipset featuring the latest video, graphics and connectivity performance in a single chip. Measuring just 33x33mm, the VIA VX800 features an integrated VIA Chrome 9™ graphics core with full DirectX 9 support and the VIA Chromotion™ video engine which provides superb video acceleration for MPEG-2, MPEG-4, WMV9, VC1 and DiVX video formats, plus a VMR capable HD video processor. The VIA VX800 includes an integrated multi-configuration 24-bit, dual channel LVDS transmitter, enabling display connection to embedded panels. Learn more about the VIA VX800 system media processor here:

About the VIA EPIA N700

The VIA EPIA N700 is available with either a 1.5GHz VIA C7 or 500MHz VIA Eden processor coupled with the VIA VX800 unified media system processor supporting up to 2GB of DDR2 667 system memory.

In terms of storage, the VIA EPIA N700 has two onboard S-ATA connectors, an IDE connector through pin-headers and a compact flash port. Expansion is easy with a mini-PCI slot on the reverse side of the board. Both VGA and Gigabit ports are included while 24-bit dual channel LVDS is supported through pin-headers.

Two USB 2.0 ports are available through the I/O array while a further two are available through front panel pin headers, as is PS/2 support for keyboard and mouse. One serial port is included with support for RS232/422 and RS485 configurations, while a further three COM ports are available through pin-headers including a 12v/5v jumper. Other pin-headers provide support for SM Bus, SPI and digital I/O including 4 x GPI and 4 x GPO support.

Security can be augmented by enabling the VIA PadLock™ Security Engine, a hardware based security technology that provides the latest military-grade encryption and protection with the world's fastest x86 security engine.

More details about the VIA EPIA N700 Nano-ITX board may be found on the VIA website at:

VIA EPIA N700 Pricing and Availability

The VIA EPIA N700 board is available now for developers, and will be available through authorized distributors by mid-September. For pricing and availability, please contact your local VIA sales representative or send an email to: embedded@via.com.tw