VIA EPIA-M800 and EPIA-N800 Mini/Nano ITX boards announced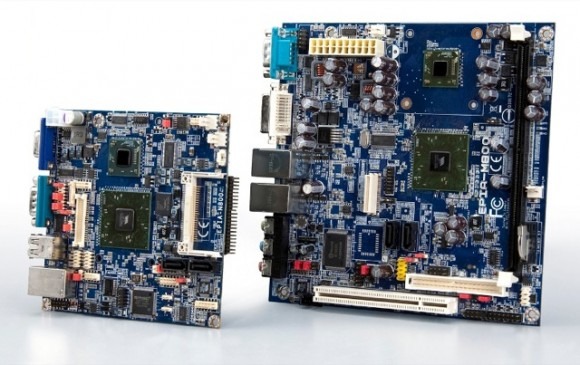 VIA have pushed out a pair of new EPIA boards, the VIA EPIA-M800 Mini-ITX and EPIA-N800 Nano-ITX, each using the company's Nano processor.  The M800 packs a choice of 1.3+GHz U2250 or fanless 1.2GHz U2500 CPUs, together with dual gigabit ethernet, DVI and HDMI headers, while the N800 gets the 1.3GHz CPU and onboard VGA, USB, COM and gigabit ethernet ports.  Both are paired with a VIA VX800 media processor.
That VX800 means that, despite the relatively frugal specs and the compact size, the two VIA boards are capable of DirectX 9.0 3D graphics and HD video.  They'll also handle six channels of surround sound, and are reasonably power frugal.
Both boards are intended for embedded platforms but could be an interesting starting point for unusual case mods or HTPCs since they'll play nicely with Windows 7.  VIA are sampling the pair now; no word on pricing or general availability.
Press Release:
VIA Nano Processor Readies VIA EPIA Boards for Next Generation Embedded Applications and Windows 7 Technologies

VIA EPIA-M800 and VIA EPIA-N800 boards featureVIA Nano processor for advanced multimedia performance in next generation embedded applications

Taipei, Taiwan, December 15, 2009 – VIA Technologies, Inc, a leading innovator of power efficient x86 processor platforms, today announced the latest VIA EPIA-M800 Mini-ITX and VIA EPIA-N800 Nano-ITX boards. Featuring the 64-bit, high-performance VIA Nano processor, these new embedded boards bring advanced digital multimedia performance to the next wave of embedded devices on forthcoming Windows 7-based technologies.

Devices based on the VIA EPIA-M800 and VIA EPIA-N800 leverage the performance enhancements of the VIA Nano processor, offering an improved user experience with advanced human to machine interaction and a visually stunning multimedia experience through the latest HD codecs and media streaming technologies. Specific applications include the latest media-centric designs in digital signage and advanced information, ticket and kiosk machines.

"By selecting the VIA Nano processor for the VIA EPIA-M800 and VIA EPIA-N800, we've managed to build on a successful product line and address the needs of the market as we move in to 2010," said Daniel Wu, Vice President, VIA Embedded Platform Division, VIA Technologies, Inc. "These new board designs will help facilitate the gradual transition toward technologies that are creating a new breed of graphically sophisticated and digitally vibrant devices."

VIA Nano Processor & VIA VX800 Media System Processor

The VIA Nano processor is based on the 64-bit, superscalar 'Isaiah' architecture, boasting as much as a four-fold performance boost over VIA C7 and VIA Eden processors while remaining within a similar thermal envelope. The VIA EPIA-M800 and VIA EPIA-N800 represent an easy upgrade path for current system and device designs based on VIA EPIA-M700 and VIA EPIA-N700 boards.

The key to the outstanding multimedia performance of both the VIA EPIA-M800 and VIA EPIA-N800 lies in the VIA VX800 unified chipset. The VIA VX800 features an VIA Chrome9™ IGP for DirectX™ 9.0 3D graphics, up to six-channels of VIA Vinyl HD Audio and the VIA Chromotion™ video engine, providing advanced hardware video acceleration for MPEG-2, MPEG-4, WMV9 and VC-1 video, plus a VMR capable HD video processor.

The VIA EPIA-M800 Mini-ITX board

The VIA EPIA-M800 is powered by a choice of 1.3+GHz U2250 or a fanless 1.2GHz U2500 VIA Nano processor, making it suitable for a wide range of applications including performance-intensive and mission critical applications.

The latest display technologies are supported via a front panel DVI port with pin-headers for an additional DVI or HDMI port through a daughterboard. Support for 18-bit TTL signal output as well as a digital video input is available through pin headers supporting CCIR-656/601/ transport stream video. An S/PDIF connector is also supported.

Storage includes both an IDE port with a shared Compact Flash port, 2 SATA II ports and up to 6 USB 2.0 ports, two through onboard connectors. Connectivity comes in the form of dual Gigabit LAN ports on the high speed PCI-Express bus. The VIA EPIA-M800 can withstand a wide temperature range from 0-60oC.

For more information about the VIA EPIA-M800 Mini-ITX board, please visit:

The VIA EPIA-N800 Nano-ITX board

The VIA EPIA-N800 Nano-ITX features a 1.3+GHz U2250 VIA Nano processor and the VIA VX800 media system processor. Measuring only 12cm x 12cm, the VIA EPIA N800 features onboard VGA, USB, COM and Gigabit network ports to help reduce system foot-print size and eradicate cluttered cabling for improved air-flow and enhanced stability in always-on systems.

Aimed at compact digital display and signage applications the VIA EPIA-N800 offers VGA and a multi-configuration, 24-bit, dual channel LVDS transmitter, enabling display connection to embedded panels. As well as two onboard SATA connectors, expansion options include a Mini-PCI slot, with additional COM and USB ports and PS/2 support available through pin-headers. The DRAM slot has been relocated to the bottom side of the board for easy access and maintenance from system design perspective.

To learn more about the VIA EPIA-N800 Mini-ITX board, please visit:

Images related to this announcement can be found here:

Samples of both the VIA EPIA-M800 and VIA EPIA-N800 are available to project customers now. Both boards include long term product manufacturing support of at least three years.