VIA eNote 11.6-inch ultraportable gets WiMAX [Video]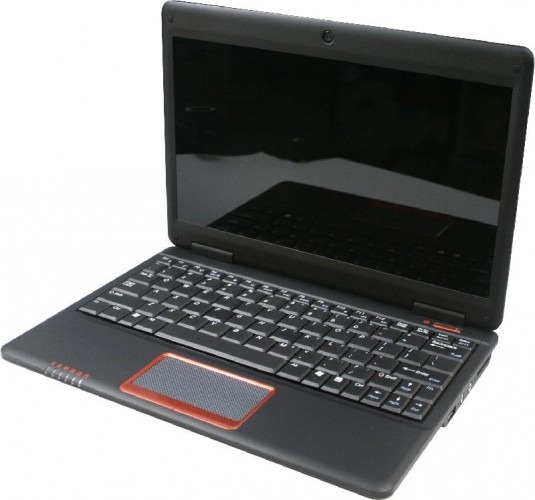 VIA have unveiled their latest ultrathin notebook, the eNote Turnkey Solution, a wireless-packing ultraportable based on the company's 1.3GHz Nano CPU and a choice of WiMAX, HSDPA and EVDO Rev.A modules.  Intended to be offered by carriers rather than direct to consumers, the VIA eNote has an 11.6-inch WXGA LCD and VX800 graphics chipset.Video demo after the cut
Two wireless modules are inside, the first packaging together WiFi, Bluetooth and optional AGPS, while the second is for the cellular broadband module.  Other connectivity includes three USB 2.0 ports, a VGA output and audio in/out, plus there's a 2-megapixel dual-headed webcam and 4-in-1 memory card reader.
VIA are claiming up to three hours runtime from the standard 4-cell battery, and the whole thing measures 240 x 175 x 36.2 mm and tips the scales at 1.3kg.  RAM is up to 2GB and various HDD and SSD options will be on offer; similarly it can run Windows Vista, XP or a Linux OS.  Despite the size, it's still capable of DirectX 9.0 graphics, video acceleration of MPEG-2, MPEG-4, WMV9, VC1 and DiVX content, HD video and 8-channel audio.
We're waiting to hear back from VIA as to what sort of pricing and availability the WiMAX-equipped eNote will see; we'll update when we have more details.
Press Release:
VIA Adopts Sequans Mobile WiMAX Chip Technology for New VIA eNote Turnkey Solution

Sleek and stylish, the feature-rich 11.6" thin and light notebook design will be unveiled at the Sequans booth during 4G World in Chicago, September 15-18

Taipei, Taiwan, 10 September 2009 – VIA Technologies, Inc, a leading innovator of power efficient x86 processor platforms, today announced the availability of the new VIA eNote Turnkey Solution, a thin and light notebook that strikes the perfect balance between netbook ultra-portability and notebook performance and functionality. The snappy 11.6" design, which incorporates both state-of-the art WiMAX and Wi-Fi connectivity, will be demo'd from September 15-18 at 4G World in Chicago in Sequans' booth, number 423.

The VIA eNote Turnkey Solution's Mobile WiMAX chip is provided by Sequans Communications, the leading supplier of chips for the WiMAX market. Sequans technology delivers high throughput with low power consumption using Sequans mimoMAX™ technology, which combines a maximum likelihood decoder on the downlink with two transmitters (2Tx) on the uplink – a unique feature that can significantly improve link budget and greatly enhance coverage and capacity.

"The VIA eNote Turnkey Solution is one of the most advanced mobile notebooks in the world," said Georges Karam, Sequans CEO. "It incorporates all the features one would expect in a state-of-the-art ultra mobile product, plus all the connectivity options that users need to experience truly high speed connectivity anywhere they go."

"Sequans technology brings the best in mobile WiMAX connectivity to the VIA eNote Turnkey Solution," said Richard Brown, Vice President of Marketing, VIA Technologies, Inc. "The result is a device that, for the first time, fuses the best features from the netbook and notebook segments resulting in a highly connected mobile product that is unmatched in both functionality and value."

About the VIA eNote Turnkey Solution

Powered by the 1.3GHz VIA Nano processor and the VIA VX800 digital media IGP chipset, the eNote is a slim-line, 1.3kg, 11.6" form factor design that supports WXGA screen resolutions and high performance VIA Chrome9™ DirectX™ 9.0 3D graphics. Advanced video acceleration for MPEG-2, MPEG-4, WMV9, VC1 and DiVX video formats, a VMR capable HD video processor and 8-channel HD audio make it a feature-rich thin and light platform.

The VIA eNote Turnkey Solution offers unrivaled broadband connectivity options though two internal modules, with the first one featuring WiFi, Bluetooth, and optional AGPS connections and the second one offering WiMAX, HSDPA, and EV-DO/W-CDMA options. Additionally, the device comes with three USB 2.0 ports, a VGA port, and audio-in/audio-out jacks as well as a 4-in-1 card reader (SD/SDIO/MMC/MS) and a 2 mega-pixel dual-headed web camera.

The VIA eNote Turnkey Solution supports a wide range of operating system environments, including Microsoft Windows Vista Basic, Microsoft Windows XP, and various Linux distributions. The device features up to 2GB DDR2 DRAM and can be equipped with a choice of hard disk drive and solid state storage options.

Featuring a 4-cell 2600mA lithium-ion battery, the VIA eNote Turnkey Solution delivers up to three hours of battery life and measures just 240mm(W)x175mm (D) x36.2mm (H).