Very First 2020 Toyota Supra Already Sold For Over $2M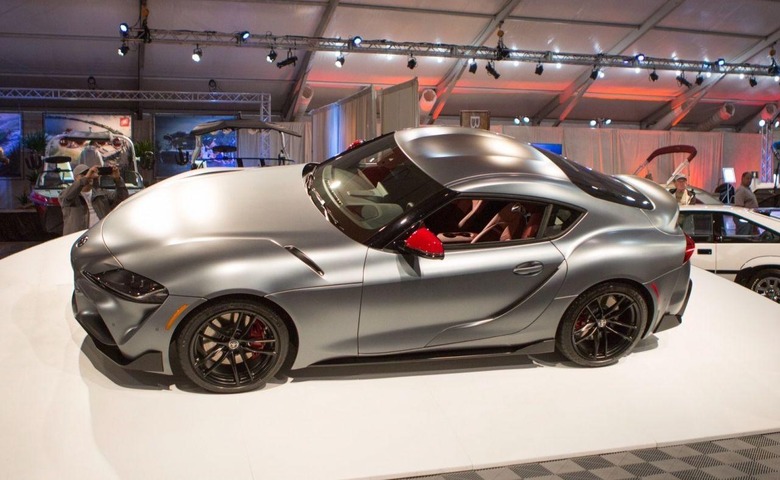 While it was leaked numerous times beforehand, this year's Detroit Auto Show brought the official debut of the 2020 Toyota Supra. The long-awaited return of the Japanese two-door coupe has been welcomed by Toyota fans and Supra enthusiasts, and that excitement has culminated in this weekend's auction of the very first production model.
The new Supra has base price that starts at just over $50,000, but the very first one was sold for a whopping $2.1 million by the Barrett-Jackson auction house. All the proceeds are going to charity of course, specifically the American Heart Association and Bob Woodruff Foundation. The unnamed buyer will be getting the first production Supra in the US, featuring a VIN of 20201 — with "2020" marking the year and "1" designating the first model.
Aside from being the very first one, the auctioned Supra has a number of unique details. First, it comes in a special one-of-a-kind color scheme: a matte gray exterior with red side mirrors and matte black wheels, paired with a red and black interior. The engine cover also features the signature of Toyota CEO Akio Toyoda.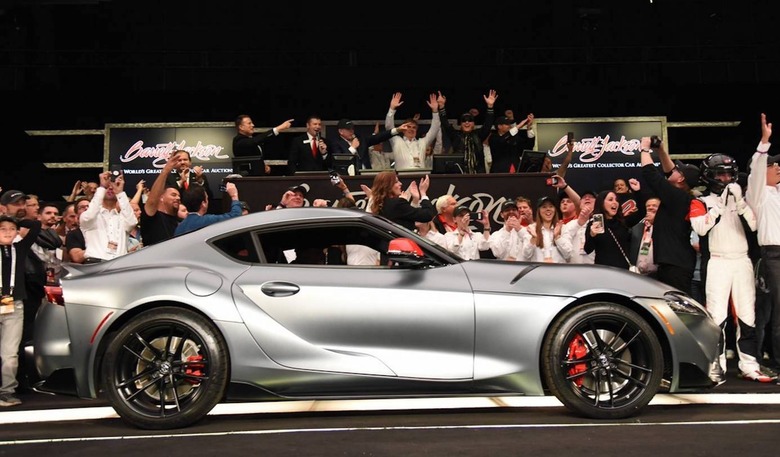 Along with the car, the winning bidder will be treated to a VIP race track experience which includes a custom racing suit, two VIP passes to the Toyota Owners 400 NASCAR race in April, and a chance to drive the pace car at the race with Michael Waltrip.
Supra fans still have a chance to get a 2020 model with almost the same stylings as the auction car. Toyota will be releasing 1,500 Launch Edition Supras in the US, and while they won't have the matte gray exterior, they do come with the red mirrors, black wheels, and a reproduction of the CEO's signature on the dashboard. These limited edition models have a starting price of roughly $56,000, which is much, much easier to swallow than $2.1 million.