Vertu outs Signature for Bentley feature phone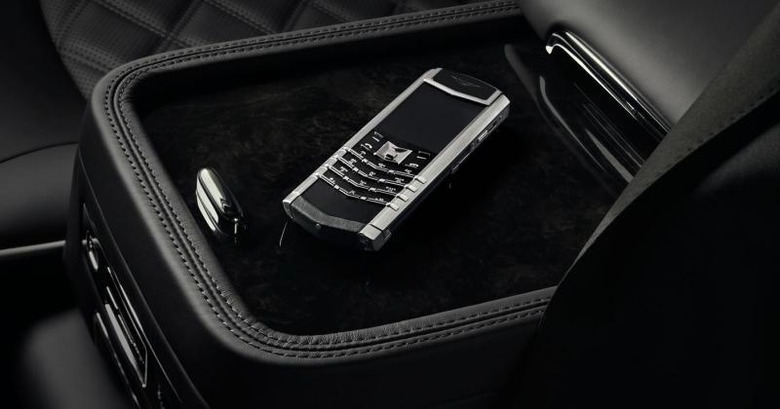 Vertu is at it again, producing a mobile device for the elite few that can afford it. This time, however, it is doing things a bit differently. For one, it has again partnered with Bentley to design a phone that matches one of the latter's automobile lines. Second, unlike most of its phones, this isn't so smart. The Signature for Bentley, though classy and luxurious in its design and materials, is pretty much a basic mobile phone, with a focus on voice calls and audio in terms of functionality.
The last time the two worked on a device was October last year, when Vertu announced the Vertu for Bentley phone. That one was a clear cut smartphone, with rather decent specs and an Android OS running on top. The Signature for Bentley, on the other hand, is what some would unlovingly call a "dumbphone" these days, your basic feature phone that is mostly meant for making calls, some text messaging, and, occasionally, browsing and e-mail. It might sound a bit boring in this day and age of smart devices, but it does move the focus from the device's tech to its premium design.
The Signature for Bentley takes its design cues from the Mulsanne Speed, the marque's most recent flagship. The two share many similar markings. The carbon fiber pillow of the phone resembling the carbon weave pattern of the car. The sides of the phone is made from the same polished stainless steel material as the Mulsanne Speed's knobs. The calf leather on the phone is even sourced from the same tannery used by the company. And of course, the iconic "Flying B" that adorns both the car and the phone's face.
Another thing that Vertu is doing rather differently is to offer buyers the luxury of customizing the design of their Signature for Bentley. A total of 2,300 combinations are possible, according to the claim. This comes from dozens of color and material options available, like Hotspur, Beluga, Linen, Newmarket tan, Burnt Oak, Fireglow, Imperial Blue or Saddle for leather and stitching. Eight contrasting stitching colors can be chosen as well. Black or sapphire keys can come with a choice of six gemstones, including White Diamond, Black Diamond, Blue Sapphire, Orange Sapphire, Ruby or Tsavorite. Whatever the color or style chosen, Vertu assures that it's is made of exceptional materials.
The Vertu Signature for Bentley is available for pre-order now. No price has been revealed yet but, being Vertu, you can already expect how much it will cost.