Verizon's FIOS "Skinny Bundle" vs the competition (basically)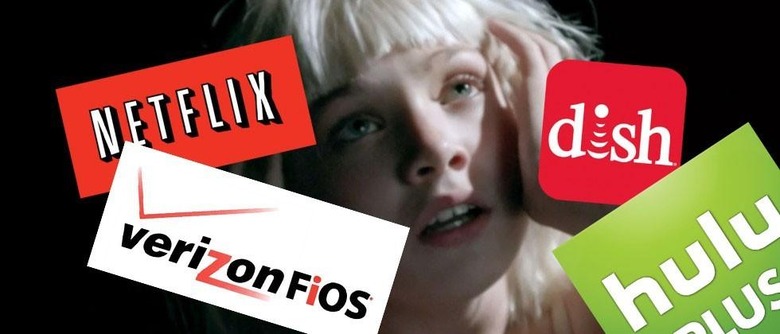 So Verizon is launching a new TV service that allows you to pick just a few channels instead of several hundred. So what? How does that compare to the rest of the TV services on the market today? What we're doing here is taking a run down the networks that offer similar services – the few that do – to show you what the real skinny is. Verizon's so-called "skinny bundle" is supposed to launch on the 19th of April – that's just a few days away. Before then, have a look at this.
Verizon's competition in this situation is other brands that offer small sets of channels. They're also aiming to compete with internet-based media services like Netflix. While in the past you had to choose a cable package that meant 10s or 100s of channels you might never watch, today there's a far wider variety of ways you might consume video.
Here we're running down the cheapest package-like deal on several of the leading video services on the market today.
Verizon FIOS / Skinny Package: $55/mo
Dish Sling TV / Live TV Package: $20/mo
Netflix / 2 screens + HD Package: $8/mo
Hulu Plus / Standard Package: $8/mo
With Hulu Plus and Netflix you'll have a collection of TV shows and movies available to watch whenever you like. With Verizon FIOS and Dish Sling TV, you'll have channels on TV in the traditional sense.
Verizon FIOS's skinny package begins with local television networks, AMC, CNN, and a choice of seven genre-specific channel packs. Users can also add additional packages for $10 each, and channel packages can be swapped out after every 30 days.
Dish Sling TV's Live TV package starts with a bundle of channels like ESPN, IFC, TNT, ABC Family, and the Disney Channel. You can add packages to this like HBO, Sports Extra (with a bunch more sports channels), and Kids Extra (with children's channels) for extra cash per month – between $5 and $15 per package.
Have a peek at our TV tag portal for more, and let us know what you're into. We'll be reviewing additional networks in the near future!