Verizon's DROID X2 just DROID X with memory slash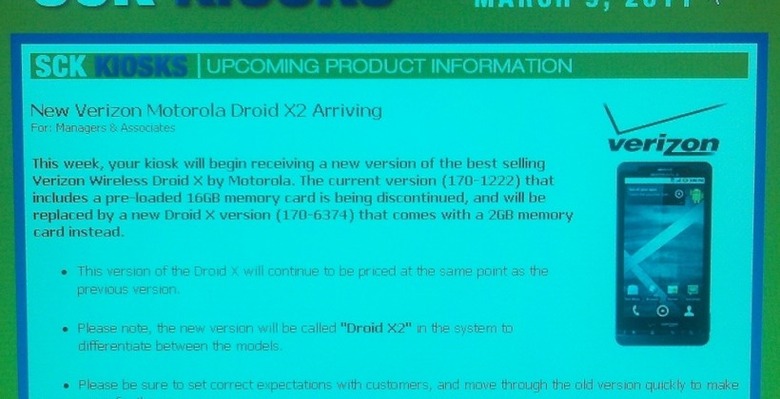 Looks like Motorola's Verizon DROID X2 isn't the powerhouse update we were hoping for. An anonymous tipster from SCK Kiosks – a Radio Shack subsidiary – sent our sibling site Android Community a screenshot suggesting that rather than a wholesale update, the Verizon DROID X2 was in fact a new SKU of the original DROID X with a 2GB memory card pre-installed rather than a 16GB card.
According to the screenshot, which apparently comes from SCK Kiosks' internal systems, the new version of the Android smartphone will be priced identically to the model it replaces. There's no other mention of hardware changes, so it looks like Motorola hasn't boosted the integrated memory to counter the smaller microSD, either.
So, if you were thinking of picking up a DROID X, then we'd recommend getting down to stores sooner rather than later before the DROID X2 stock takes over and you get a smaller card for your money. Looks like the ATRIX 4G keeps its flagship position for the moment.