Verizon unlock 8330 & Pearl 8130 GPS for BlackBerry Maps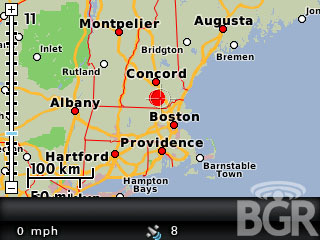 A Verizon update for the BlackBerry 8330 Curve and the 8130 Pearl has unlocked the GPS receiver so that it will work with more than just the carrier's own VZ Navigator.  Verizon themselves have not commented on the release, but there are multiple reports of users able to lock onto satellites in BlackBerry Maps.  The functionality requires the OS 4.5 version of the RIM satnav software, as earlier builds lack the option to use a handset's internal GPS.
However the unlock has not left the Curve and Pearl's GPS open to every piece of navigation software; in actual fact, it appears that Verizon have merely extended the functionality to RIM's own satnav system.  Third-party applications have so far proved unable to take advantage of the smartphone's GPS, including Google Maps for Mobile.
Still missing is geotagging for photos taken with the BlackBerry's camera.  It's been speculated that Verizon will be activating that function in the near future.
[via SlashPhone]