Verizon Samsung Zeal gets premature preview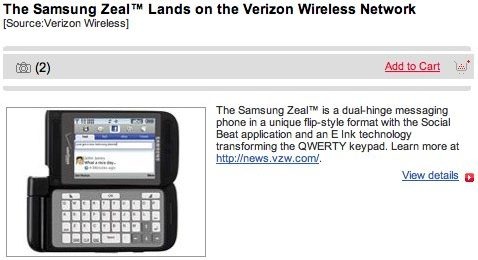 Looks like the rumors about the Samsung Zeal were true; the dual-hinge messaging handset has seemingly been prematurely tipped by a third-party news service used by Verizon. The press release itself has been pulled, and there's no mention of the Zeal on Verizon's own press pages at the moment, but we did come across a 360-degree viewer which shows the front of the handset.
That outside panel has a secondary display, along with multimedia controls, though it's the buttons inside that are really interesting. The Zeal uses E Ink keys rather than regular, printed buttons, which means the phone can change its layout according to what app you're using or which way you have the handset open.
Otherwise the features are pretty mundane: a 2.6-inch QVGA main display, 2-megapixel camera and Bluetooth, along with Skype Mobile. No word on pricing or availability at this stage, but we're guessing that if a press release has been prepared, the Zeal will be on sale at Verizon sooner rather than later.