Verizon Offers $50 Discount For Phone And Tablet Combo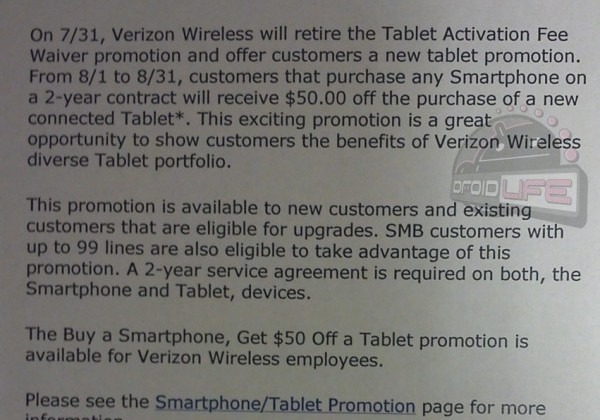 Verizon is now offering a special discount for customers that purchase a smartphone with a new 2-year contract between August 1 and 31. The discount is for $50 off a 3G or 4G tablet purchased at the same time. This combo package applies to all Android tablets offered through Verizon as well as the iPad 2, with the only exceptions being the original iPad and the WiFi Galaxy Tab 10.1
It's not surprising that Verizon is ramping up its promotional efforts for data-heavy devices after recently discontinuing its unlimited data plans. It's not clear whether the discount only applies to data-connected tablets as opposed to just buying a full-priced tablet outright, although the former would make the most sense to lock in more data plans.
The offer is available to both new and existing customers that are eligible for upgrades. Verizon also made sure to point out that the promotion is available to small businesses as well as its own employees.
The promotion will be especially timely for Samsung who's launching its Galaxy S II smartphone in August as well as a new 4G LTE version of its Galaxy Tab 10.1 tablet. It will, however, be horrible timing for the Motorola Droid Bionic. Now delayed till September, the Droid Bionic will likely see much of its fed-up customers snatched up in August by the Galaxy S II and Verizon promo.
Update: Verizon now has specific links to the smartphones and tablets included in this promotion.
[via Droid-Life]