Verizon Nokia Lumia 822 official with 4G LTE [Update: $100]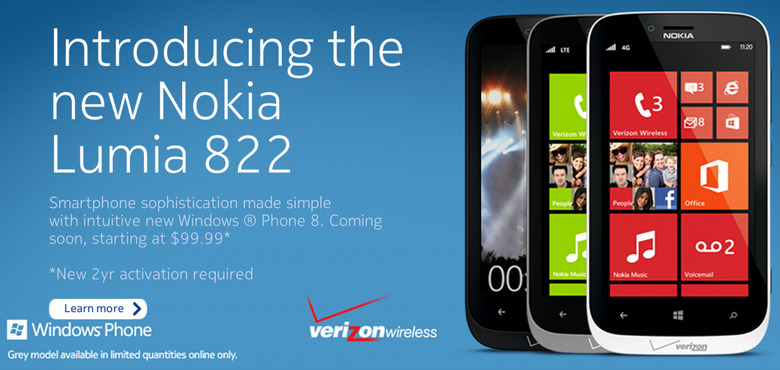 Verizon and Nokia have officially announced the CDMA version of Nokia's Lumia 820, the Verizon Lumia 822, running Windows Phone 8. Supporting Verizon's EVDO Rev.A and 4G LTE networks, the Lumia 822 is otherwise identical to the GSM model which will be offered on both AT&T and T-Mobile USA, complete with interchangeable covers and the possibility of wireless charging.
There's also an 8-megapixel camera on the back, with Carl Zeiss lens, and a 1.2-megapixel front facing camera for video calls. Nokia adds Smart Shoot to the Windows Phone camera app, too, slicing moving objects out of the frame as well as allowing photographers to pick the best combination of facial expressions in group shots.
Nokia Drive+ and Nokia Music are also preloaded, with turn-by-turn navigation, City Lens augmented reality, and free streaming audio. Obviously there'll also be the Windows Phone Market, with all of the usual apps for Microsoft's platform, too.
Unfortunately, neither Nokia nor Verizon are saying when, exactly, the Lumia 822 will be going on sale, nor for how much. That may well change later today, however, given Microsoft's incoming Windows Phone 8 launch event in San Francisco.
Update: According to Nokia USA's page, the Lumia 822 will be priced at $99.99 with a new, two-year agreement.