Verizon Motorola Droid live: "the Android device to beat"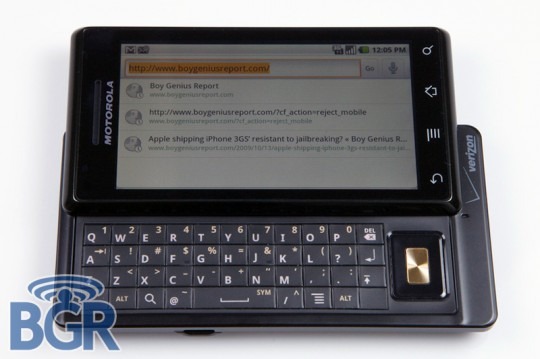 With Verizon's ad campaign for the Motorola Droid
over the weekend, and a launch date of October 30th tipped, it comes as little surprise to see a
arrive over at the BGR.  They're mightily impressed, too, calling the Droid "the fastest Android device we've ever used" courtesy of its TI OMAP3430 chipset, branding its capacitive display "awesome" and "huge", and concluding that it's "the Android device to beat".
In fact, BGR compare the hardware of the Droid to that of the ill-fated
, "just smaller", with a large amount of metal in the construction, a well-built non-spring-assisted slide and a casing just slightly thicker than an iPhone 3GS.  Despite that thinness, it has a "pretty usable" QWERTY keyboard with rubberized finish.
It comes with – or at least can be paired with – a desktop cradle that charges the Droid and automatically kicks it into "multimedia station" mode, with weather reports and other news updates; no photos of that accessory, however.  Apparently Google had "a direct hand" in the Droid's design and construction; if you've been waiting for the official gPhone before stepping into Android, then this might be the closest thing to it.