Verizon Motorola Droid (aka Sholes) outed in new leaked photos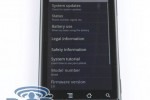 If there's one thing we like, it's leaky phone companies and their prematurely-exposed wares.  The Boy Genius Report seem to have had their fair share of Motorola Sholes images lately, and there's another three new images – including the crisp shot you see here – to tempt us.  According to the phone's "About" screen, the handset will have official name Motorola Droid.
What the photo doesn't show is the slide-out QWERTY keyboard we know the Droid has, but that gets an outing in the admittedly far less detailed shot you can see in the gallery.  There doesn't appear to be any of the hallmarks of MOTOBLUR that we've seen on the Motorola CLIQ, however, suggesting that the Droid is a plain, pure-Android device.
According to BGR's tipsters, Verizon and Motorola are really gunning the development machine, with new OS builds "almost daily".  It's previously ben suggested that the Verizon Droid will drop on October 30th.
[Thanks Colin!]