Verizon Moto X leaked in image ahead of launch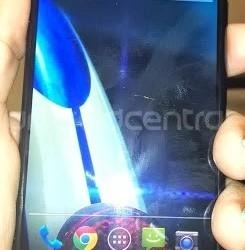 The Verizon Moto X handset has made an appearance in an image received by the folks over at Android Central, in which we see a Nexus 4-esque black handset with the new Motorola logo up in the left corner. This follows a roadmap that leaked yesterday showing the release date of the handset on Verizon (as well as the HTC One).
The image is tagged on top with a "Not for sale" stamp and a "Motorola confidential property" stamp on the bottom. There's no Verizon branding on the handset, but the source of the image says that it is the handset destined to be offered from Verizon. Overall, the phone isn't very large, and looks quite a bit similar to the Nexus 4.
We also get a look at the Android software running on it, of which there is only one really notable portion. As the folks at Android Central point out, a careful look at the keys on the bottom of the screen reveals that the background behind them is transparent. This is a change up from what we currently see, and could indicate anything from a customization specific to the phone to a newer version of Android being on it.
Aside from that, what we see are some large bezels at both the top and the bottom of the screen, as well as the generic black color that will be offered on the handset (in addition to white, it is said) available from carriers. The customization options, of which they're rumored to be numerous, will be available to those who order online with their own selections.
According to the leaked roadmap, Verizon will be launching the Moto X on August 23, giving us a bit over a month left in waiting. It is possible Motorola will be revealing the device well before this date, however, especially considering the number of leaks that have surfaced concerning the device. For more information, check out the timeline below and the Moto X tag portal.
SOURCE: Android Central