Verizon mobile 5G launches April with extra fees: 5G Moto Mod dated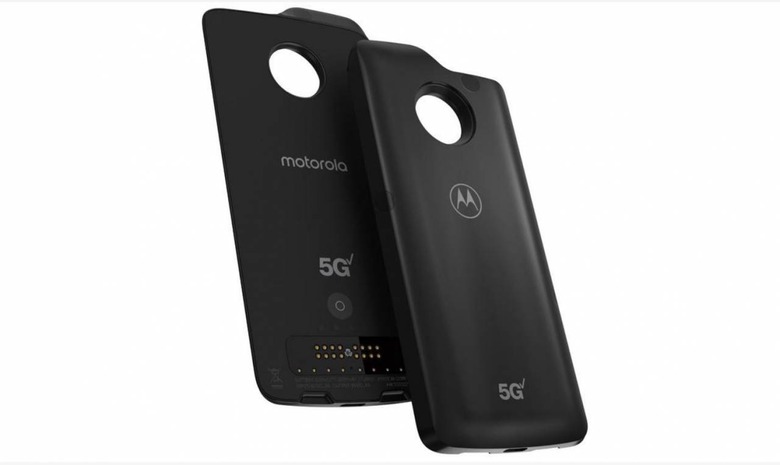 Last month, Verizon gave us a fairly vague timeline for its 5G plans in 2019, saying that mobile 5G would launch in 30 cities across the US throughout the year but not really getting specific about the "where" or "when." Today, Verizon is starting to pull back the veil on its 5G Mobility plans a little bit, announcing launch dates for two cities. It also revealed when Motorola's 5G Moto Mod will be launching and how much it'll cost.
The first two cities getting mobile 5G service from Verizon are Chicago and Minneapolis. Mobile 5G service – which Verizon officially calls 5G Mobility – will go live in both cities on April 11, just a hair over four weeks from today. Even in Chicago and Minneapolis, it sounds like 5G service will be spotty at the beginning, as Verizon says only "select areas" of both cities will be covered come launch day.
READ MORE: Motorola Moto z3 Review: Waiting for 5GGoing hand-in-hand with this announcement, Verizon has also revealed that Motorola's 5G Moto Mod will be available on April 11 as well, with pre-orders opening tomorrow. When Verizon's 5G service launches in Chicago and Minneapolis next month, that 5G Moto Mod will likely be the only way to tap into the network. As announced last year, the Moto Mod is essentially a detachable 5G antenna for the Moto Z3. Samsung will eventually launch Galaxy S10 5G as a timed Verizon exclusive, but that won't be arriving until sometime this summer.
Unfortunately, Verizon customers are going to be paying more for 5G. Verizon said in a
today that postpaid customers on any of the company's three Unlimited plans will need to pay an extra $10 a month for unlimited 5G. That fee will be waived for the first three months, which is nice, but if you were expecting Verizon to offer 5G service at no extra cost, this is probably some sour news.
As far as that 5G Moto Mod is concerned, pre-orders open tomorrow, March 14. Though Verizon says that the 5G Moto Mod has a retail price of $349.99, those who pre-order can get one for $50. Verizon is also giving away free Moto z3s to folks who pre-order tomorrow and add a new line of service on a device payment plan, but if you're not looking to add another line, you can upgrade to the z3 for $10 per month on a device payment plan.
It's worth keeping in mind that you'll need to be on one of Verizon's Unlimited plans to even pre-order the 5G Moto Mod when those open up tomorrow, as explained in
about the add-on. We'll undoubtedly be hearing more about Verizon's 5G plans soon, so stay tuned for more, but in the meantime, head down to the comments section and let us know if you'll be signing up for Verizon's 5G service on April 11.