Verizon LTE-Based Devices Rumored to Land in Best Buy This Fall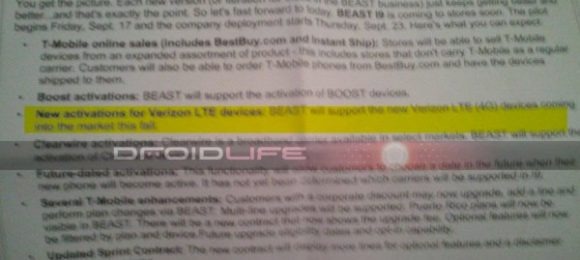 While Verizon's game plan for their LTE roll-out seems to be going right on schedule, and we're more than sure that they've got this whole thing figured out all the way up until 2013, for the rest of us the road just takes a sharp turn every once in awhile. Up until now, the assumption was that Verizon's 4G network, LTE, would be accessed mainly by USB modems, as well as other things like this, but that actual devices weren't on the menu quite yet. However, according to a new leaked image from a Best Buy internal source, it seems that the major electronics retailer is expecting LTE-based devices "this fall."
The leaked image doesn't do a lot for the whole "details" thing, but it does show that Best Buy's BEAST, the company's internal activation system, has already been supported to activate the new additions to Verizon's line-up. At least, it will support the devices, when they show up this Fall. Of course, Fall is right around the corner, and we don't necessarily think a device will just show up on shelves in the next few weeks. Unless, of course, part of Verizon's roll-out plan is to give everyone a big surprise.
We know that Verizon is planning to launch 4G in 30 "NFL cities" by the end of the year, so we'll have to wait and see if that launch equates into Verizon customers getting their hands on a 4G-based device at the same time. We already know it won't be a Windows Phone 7 device, so should we start banking on an Android release? Let the guessing game begin.
[via Droid-Life]