Verizon LG Versa & T-Mobile Samsung Memoir Get Video Unboxings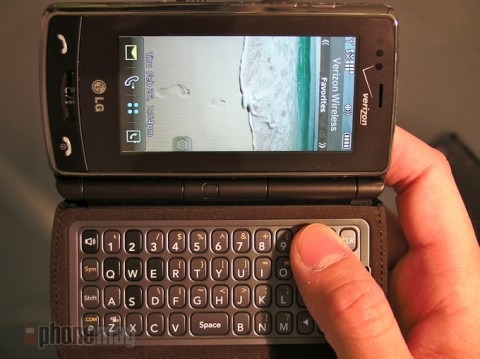 Over at PHONE Magazine, Vincent has been playing with two of the hottest cellphones of the week.  Verizon's LG Versa only had its official announcement yesterday, and already it's starred in an unboxing video and hands-on gallery; meanwhile, T-Mobile's Samsung Memoir is doing its level best to convince us it's actually an 8-megapixel autofocus camera that just so happens to have a finger-friendly touchscreen and 3G connectivity.
Gallery after the cut
Both devices are touchscreen feature-phones, but both come at the segment from a different angle.  While the Versa's camera may be a mere 2-megapixels, it makes up for it with a messaging-friendly snap-on QWERTY keyboard attachment, which even comes with its own supplementary OLED status display.
The Versa and Memoir are both handsets with plenty of promise, and you know we'll be expecting them to live up to that if they want to score well in their PHONE Magazine review.  You'll be wanting to go here for the Verizon LG Versa unboxing, and over here for the T-Mobile Samsung Memoir unboxing.