Verizon GizmoWatch Is An Apple Watch For Kids, Sort Of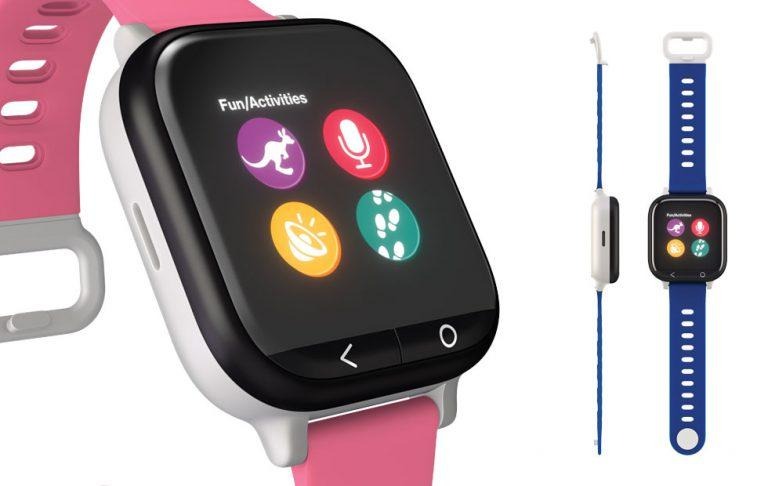 The latest in kid-oriented smartwatch hardware comes from Verizon, and it's called GizmoWatch. This is the latest in a line of similar products sold exclusively by Verizon, all in the Verizon GizmoKids product line. This watch will replace the most recent smartwatch made by Verizon, the GizmoGadget. This device holds the distinction of being "the first 4G LTE kid's watch in the United States powered by Qualcomm."
Outside of SOME functionality, it's really very little like an actual Apple Watch. But the Verizon GizmoWatch has the same general shape as an Apple Watch, and it has a color display – so who's to say? Brian Higgins, vice president of device and consumer product marketing for Verizon, says "the new GizmoWatch has all of the benefits that parents and kids are looking for in a smart watch in a stylish and cool new look kids will love."
Things this watch can do:
• GPS location
• Track child with GPS
• Alerts when child outside GPS radius
• Step tracking
• Keep 10 trusted contacts
• 2-way voice calls
• Messaging
• Remote turn-off (via parent app)
• Lock with pin number
• Record voice files
• Play audio with silly filters
This watch has a 510mAh battery that Verizon suggests will last up to 4 days at a time. It's 1.65-inches high, 1.85-inches wide, and 0.6-inches deep. The display is an AMOLED panel that's 1.3-inches diagonally with 240 x 240 pixels inside. There's 4GB internal storage, and it's IPX7 compliant – that means "If all covers are tightly closed, device is protected against water ingress to a maximum of 1 meter deep for 30 minutes."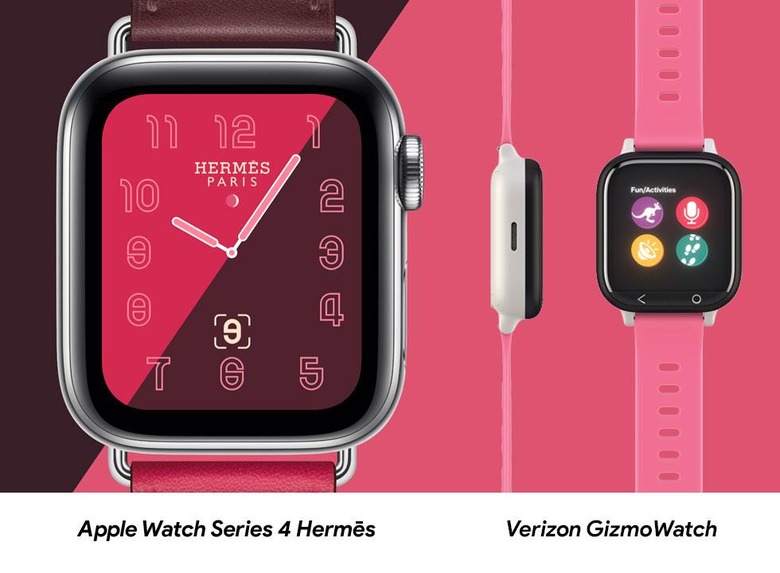 ABOVE: Same thing! Kids won't know the difference if you never let them get too close to your Apple Watch. It's the same BASIC shape, right?
This watch comes with either a blue or pink band. You can buy whatever other color bands you want, after you choose either blue or pink. According to Verizon, "it's compatible with any standard 20 mm watch strap."
Those upgrading from previous Verizon smartwatches for kids will find that this unit has "a more durable band and a more sophisticated color palette." It's also running a relatively new Qualcomm Snapdragon Wear 2100 SoC under the hood, so you know it's decent.
Preorder for this GizmoWatch begins on September 20th, 2018. The watch will be available in Verizon stores and online starting on October 10th, 2018. This watch will be available for approximately $180, and it'll be added to an existing Verizon plan "for only $5 a month (plus taxes and fees)." In addition to what's shown above, the GizmoWatch will be available with different bands "in an assortment of colors and materials."