Verizon LG Ally gets official: $100 from May 20th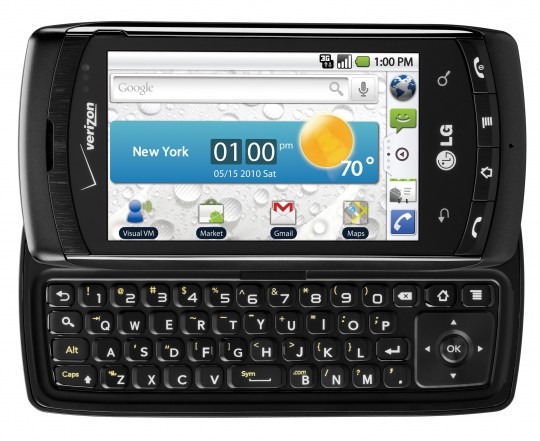 Verizon's announcement of the LG Ally comes as no great surprise – after all, we were expecting the Android handset to go up for pre-order from tomorrow – but it's always nice to have confirmation.  The Ally runs Android 2.1 on a 3.2-inch glass touchscreen, and has a slide-out QWERTY keyboard, WiFi b/g/n, Bluetooth 2.1 and a 3.2-megapixel camera.  It'll land on Verizon's network from May 20th, priced at $99.99 after a $100 mail-in rebate and assuming a new, two-year contract.
As well as the regular Android 2.1 features, the Ally will also offer LG's own custom widgets for Facebook and Twitter access, news, weather and more.  There's also Verizon's Visual Voicemail, a 3D app launcher, and an onboard image editing app.  Storage is via microSD card, with up to 16GB cards supported.
Nothing outrageous in terms of specifications, certainly, but the price should persuade a few people to step on board.  Pre-orders for the LG Ally will kick off from tomorrow, May 13th.
Press Release:
Verizon Wireless And LG Mobile Phones Connect Customers To The Superhero Within

New LG Ally Smartphone Prepares Customers for the Adventures of Today and the Thrills of Tomorrow

BASKING RIDGE, NJ, and SAN DIEGO, CA — Verizon Wireless and LG Electronics MobileComm U.S.A., Inc. (LG Mobile Phones), today announced the LG Ally™ will be available in Verizon Wireless Communications Stores beginning May 20. The first Android device from LG, the Ally is the perfect assembly of futuristic, stylish design and 3G Android power for customers looking to tackle life's most challenging feats and everyday ventures. Verizon Wireless customers can pre-order the phone at www.verizonwireless.com beginning May 13.

Key features:

Ergonomic silver-and-black outer case

Large 3.2" tempered glass touch screen featuring touch vibration for tactile feedback

Full slide-out QWERTY keyboard with simultaneous touch screen capabilities

microSD™ slot for up to 16 GB of memory

Wi-Fi Enabled® (802.11 b/g/n)

Bluetooth® 2.1 capabilities with unlimited pairing and support for the following profiles: headset, hands-free, object push, stereo, audio/visual remote control, file transfer, phonebook access, basic printing and instant sharing of photos and videos

Built-in MP3 and WMA music player with music library, repeat and shuffle features, as well as stereo sound via headset or Bluetooth

One-touch speaker phone and speaker-independent voice commands

Additional features:

Five customizable home screens with shortcuts to text messages, e-mail, apps, favorite social networking sites and widgets

Access to up to 38,000 apps from around the world in Android Market™

Luminous sensor designed to adjust LCD backlight brightness depending on light conditions

Proximity sensor instantly locks touch screen buttons while talking on the phone

S-GPS support for enhanced location accuracy in addition to turn-by-turn directions from Google Maps™

Access to updates on Twitter, MySpace, Facebook®, etc.

3D App launcher and Live Wallpaper

3.2 megapixel autofocus camera and camcorder with flash that includes:

Five different camera resolutions and three different video resolutions

Zoom up to 4.0 times

Macro Mode for detailed, up close pictures

Panorama for three guided sequential shots

Scene mode for auto, portrait, landscape, sports and night settings

Image editor with zoom, rotate, resize, crop, added frames and stamps

Customize brightness, white balance, shutter sounds, color effects and use a self-timer

Choose between mute and unmute to record video with or without sound

Optimize video quality with normal, fine or super camcorder settings

Video recording time up to 16 GB

Pricing and availability:

The LG Ally will be available for pre-order online at www.verizonwireless.com beginning May 13. It will be in Verizon Wireless Communications Stores on May 20. Pricing will be $99.99 after a $100 mail-in rebate with a new two-year customer agreement. Customers will receive the rebate in the form of a debit card; upon receipt, customers may use the card as cash anywhere debit cards are accepted.

LG Ally customers will need to subscribe to a Verizon Wireless Nationwide Talk Plan and an Email and Web for Smartphone plan. Nationwide Talk plans begin at $39.99 monthly access. Email and Web for Smartphone plans start at $29.99 for unlimited monthly access.

For additional information on Verizon Wireless products and services, visit a Verizon Wireless Communications Store, call 1-800-2 JOIN IN or go to www.verizonwireless.com.