Verizon Kin due May 13th; presales this Thursday

Microsoft's Kin featurephone launch has found itself with a few solid release dates on Verizon, after details from the carrier's internal systems apparently leaked.  According to those screenshots, both the Kin One and Kin Two will go up for pre-order online come May 6th 2010 – Thursday this week – while the two devices will launch fully on May 13th 2010.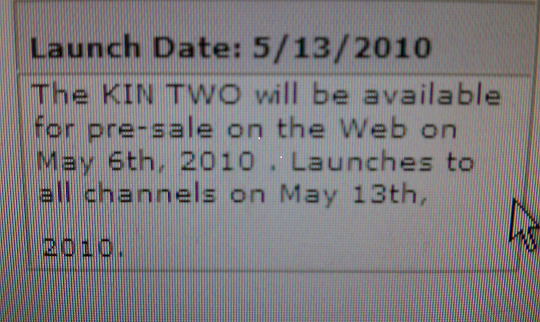 The two devices are intended to bring smartphone-style social networking functionality to a featurephone audience, with each handset having a slide-out QWERTY keyboard together with a capacitive touchscreen and new, media/sharing-centric OS.  The Kin One has a distinctive squared-off appearance, while the Kin Two is a more traditionally-shaped slider; our hands-on from the Kin launch has more detail.
Of course, the real deciding factor for Kin will be how Verizon and Microsoft price the handsets.  Check out Avi Greengart's column from last week for more information on possible data plan positioning and the rise of the connected featurephone, and Michael Gartenberg's column on why Kin stands a good chance of finding its own niche.
Microsoft Kin One and Kin Two hands-on:
[vms de9d18c350cdf64c5aa3]