Verizon iPhone Pre-Order Release Day, Hour, and Minute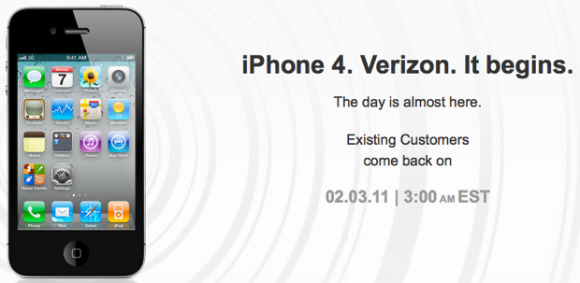 Oh Verizon, you guys so crazy. They've got splash screen after splash screen up on their iPhone site saying that Existing Customers will be allowed to ram their buttons down at exactly 3 AM EST on the third of February, 2011. The site will crash at that moment, and everyone will cry.
To see if you can find the images you see above and below this paragraph, head over to Verizon and do some soul searching. Be sure to sign up for updates, click around the site for hours, and sell your soul, because you're gonna need the cash. The iPhone will cost you ladies and gentlemen $199 for 16GB and $299 for 32GB models, the data and talk plans starting at $70 total for 450 minutes and unlimited data. If you'd like to also be able to tether your laptop to your phone's internet, you'll be paying another $20 a month. Is it worth it?