Verizon iPhone 5 carrier update fixes WiFi and 3G issue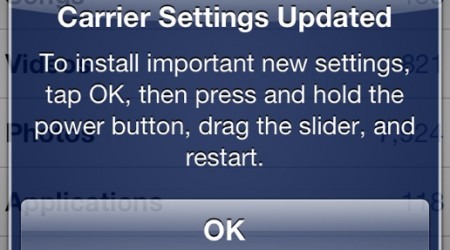 The iPhone 5 has been out for a little over a week now, and we've already seen some issues arise. Of course, the Apple Maps debacle was certainly up there and caused a lot of frustration for users. However, on the carrier end, some Verizon users are reporting that 3G data has been active even when WiFi is enabled. Verizon has now issued a fix for this.
Verizon Wireless has released a carrier settings update that resolves an issue in which the iPhone 5 uses 3G data while the device is connected to a WiFi network. Verizon says this was only happening to a handful of users and would only occur in certain circumstances, but that was enough to release a fix.
To apply the update, follow these steps:
1. Go to Settings > General > About.
2. Wait for the carrier update alert to appear (pictured above).
3. Tap OK to install the update.
After the update is done downloading and installing, it's important that you completely turn the device off and turn it back on again in order to complete the update. After your iPhone 5 starts back up, go to Settings > General > About, and then scroll down to Carrier and verify that "Verizon 13.1″ is displayed. If so, the update installed correctly.
Some users were even complaining about how their 3G connection would kick in instead of WiFi while in sleep mode. This was normal behavior in iOS 5, since WiFi was automatically switched off in sleep mode to save battery life, and was only switched on when needed. However, it looks like that has changed in iOS 6 — Wi-Fi doesn't seem to kick on when needed anymore, and instead just stays off completely in sleep mode, making the 3G connection do all the work.
[via 9to5Mac]