Verizon iPhone 4 order pages go live at Apple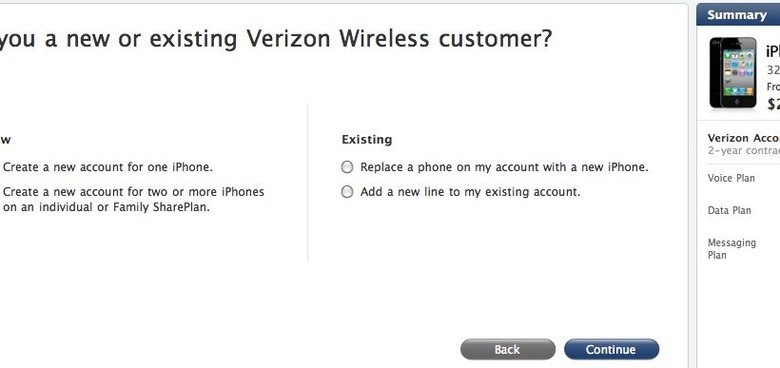 We're not quite at the February 3 sales date for the Verizon iPhone 4, but the purchase pages for the CDMA smartphone have already gone live on Apple's site. Seemingly activated in the update earlier today, the $199 16GB and $299 32GB purchase links walk you through either setting up a new Verizon account or adding the iPhone 4 to an existing account, together with confirming the various voice, data and messaging plan options.
Three individual voice plans are available, priced at $39.99/mo for 450 minutes, $59.99/mo for 900 minutes (and unlimited calls to five people on any network), or $69.99/mo for nationwide unlimited calls. There are two data plan options, $29.99/mo for unlimited data or $49.99/mo for adding in 2GB of mobile hotspot data; each additional GB of mobile hotspot data is charged at $20.
Finally there are four messaging plans, either pay-per-use (at 20 cents a text or 25 cents for a picture/video message), 250 messages for $5/mo, 500 for $10/mo (and unlimited to other Verizon customers), or completely unlimited for $20. There's also the option to transfer your number. We haven't been able to try to actually complete an order yet, but we're assuming that stage won't go live until early February.
[Thanks Jason!]