Verizon iPad Deal Bundles MiFi; No AT&T 3G In Sight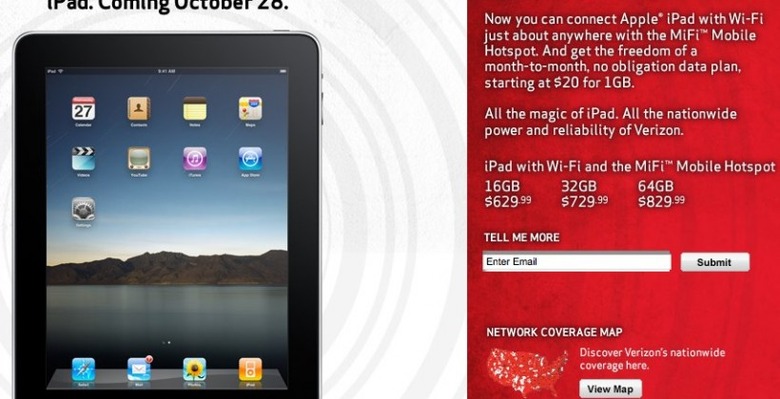 The iPad is coming to Verizon Wireless, but not in the way you might first expect.  The carrier has announced that, as of Thursday, October 28, it will be offering three iPad WiFi bundles that package the non-3G version of the iOS slate with a contract-free Verizon MiFi 2200 mobile 3G hostpot.
There's also a new MiFi tariff for iPad users, with 1GB of data for $20 per month and no agreement commitment.  Pricing is $629.99 for the iPad Wi-Fi 16GB and MiFi, $729.99 for the iPad Wi-Fi 32GB and MiFi and $829.99 for the iPad Wi-Fi 64GB and MiFi.
Alternatively, the WiFi-only iPads will be available through Verizon Wireless stores on their own, with no bundled MiFi.  We're guessing pricing will be the same, in that case, as Apple's own RRP for the tablets.
Update: Apple Insider spotted more Verizon price plans, including a 3GB plan for $35 and a 5GB plan for $50, with $10 extra for each additional 1GB over the included allowance.
Press Release:
Verizon Wireless Offers iPad at Stores Nationwide on October 28

BASKING RIDGE, N.J. & CUPERTINO, Calif.–(BUSINESS WIRE)–Verizon Wireless and Apple® today announced that iPad™ will be available at over 2,000 Verizon Wireless Stores nationwide beginning Thursday, October 28. Verizon Wireless will offer three bundles, all featuring an iPad Wi-Fi model and a Verizon MiFi 2200 Intelligent Mobile Hotspot, for a suggested retail price of $629.99 for iPad Wi-Fi 16GB + MiFi, $729.99 for iPad Wi-Fi 32GB + MiFi and $829.99 for iPad Wi-Fi 64GB + MiFi. Verizon Wireless is offering a monthly access plan to iPad customers of up to 1GB of data for just $20 a month. In addition, Verizon Wireless will also offer all three iPad Wi-Fi models on a stand-alone basis.

"iPad allows users to connect with their apps and content in a more intimate, intuitive and fun way than ever before, and together with Verizon Wireless we're offering an easy way to stay connected wherever you go."

"This is the perfect pairing for holiday travels," said John Stratton, chief operating officer for Verizon Wireless. "iPad together with the nation's largest and most reliable 3G data network allows customers to easily connect on the go wherever they are."

"We're thrilled to be working with Verizon Wireless to get iPad into the hands of even more customers this holiday season," said Tim Cook, Apple's COO. "iPad allows users to connect with their apps and content in a more intimate, intuitive and fun way than ever before, and together with Verizon Wireless we're offering an easy way to stay connected wherever you go."

iPad allows users to browse the web, read and send email, enjoy and share photos, watch HD videos, listen to music, play games, read ebooks and much more, all using iPad's revolutionary Multi-Touch™ user interface. iPad Wi-Fi models are just 0.5 inches thick and weigh just 1.5 pounds—thinner and lighter than any laptop or netbook—and deliver up to 10 hours of battery life.*

Apple's App Store℠ offers iPad users access to the world's largest catalog of apps with over 280,000 apps and more than 30,000 iPad specific apps in 20 categories, including games, business, news, sports, health, reference and travel. With Apple's iBookstore℠, the best way to browse, buy and read books on a mobile device, iPad users have access to more than 100,000 books from major and independent publishers.

MiFi 2200 is small enough to fit in a pocket and allows customers to create a personal Wi-Fi cloud capable of sharing the high-speed Internet connectivity of the Verizon Wireless 3G Mobile Broadband network with up to five Wi-Fi-enabled devices. The MiFi 2200's rechargeable battery provides up to four hours of active use and 40 hours of standby time on a single charge.

Customers can sign up for more information on Apple's iPad together with Verizon Wireless' MiFi 2200 at www.verizonwireless.com/iPad, at any Verizon Wireless Communications Store or by calling 1-800-2 JOIN IN.

*Battery life depends on device settings, usage and other factors. Actual results vary.

Verizon Wireless operates the nation's most reliable and largest wireless voice and 3G data network, serving more than 92 million customers. Headquartered in Basking Ridge, N.J., with 79,000 employees nationwide, Verizon Wireless is a joint venture of Verizon Communications (NYSE, NASDAQ: VZ) and Vodafone (LSE, NASDAQ: VOD). For more information, visit www.verizonwireless.com.

Apple designs Macs, the best personal computers in the world, along with OS X, iLife, iWork, and professional software. Apple leads the digital music revolution with its iPods and iTunes online store. Apple is reinventing the mobile phone with its revolutionary iPhone and App Store, and has recently introduced its magical iPad which is defining the future of mobile media and computing devices.