Verizon Hub coming Feb 1st?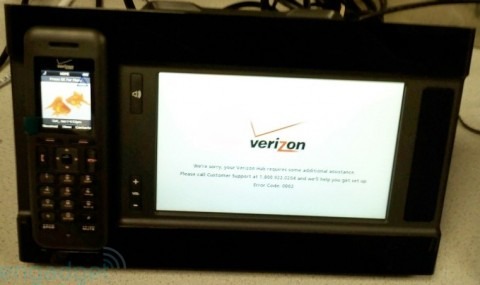 The Verizon Hub, the carrier's family-friendly home media device, is set to launch on February 1st, offering a digital corkboard, digital photoframe functionality and integration with multiple Verizon Wireless handsets.  Owners will be able to access the internet, leave memos (including video and audio clips) for family members and check schedules, all through a large touchscreen.
The Hub has a cordless handset that can be used for phonecalls or, presumably, remotely controlling the base-station.  In this way, it's similar to iRiver's WAVE HOME device, which we spent time with at CES 2009.  The WAVE HOME too has a touchscreen interface and offers VoIP, video VoIP, internet access, weather, messaging and media functionality; check out our video hands-on here..
No pricing has been suggested for the Hub, nor concrete specifications, but unlike the original rumors it appears that owners won't need to have a Verizon FiOS service in order to take advantage of one.  We're expecting to see an outright purchase price together with a monthly contract fee, probably with a minimum of two-years commitment knowing Verizon.
[via Engadget]