Verizon HTC Touch Pro arrives: expensive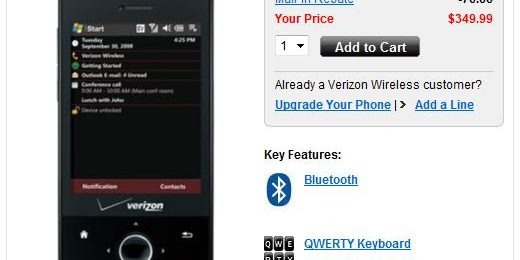 Verizon Wireless have launched the HTC Touch Pro, but you get the feeling the carrier doesn't particularly want to sell any.  At $349.99 (following a $70 mail-in rebate) the Verizon Touch Pro is $50 more expensive than the AT&T HTC Fuze (at $299.99) and $70 more than the Touch Pro on Alltel (at $279.99).
For your premium price you get exactly the same handset: Windows Mobile 6.1 Pro, a VGA resolution touchscreen, slide-out QWERTY keyboard and integrated GPS.  Verizon do load on their VZ Navigtor app, together with their VZAppZone download store, but they're probably not worth an extra $50. 
The Touch Pro has a 3.2-megapixel camera and WiFi.  All prices before are based on signing a new two-year agreement.  You can see our review of the AT&T HTC Fuze here and the HTC Touch Pro here.