Verizon HTC Ozone announced: $50 from June 29th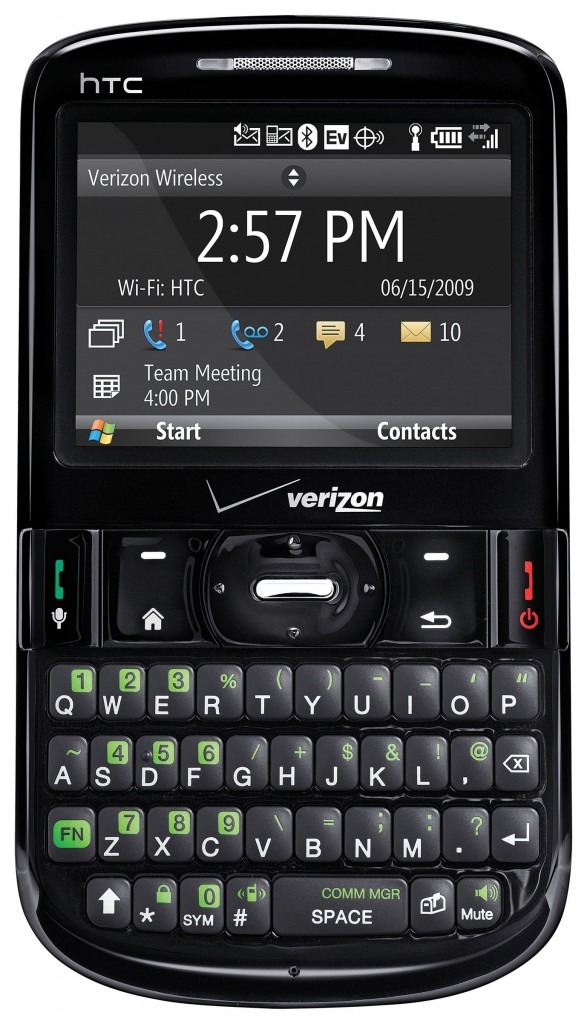 Verizon Wireless have announced the HTC Ozone, their counterpart to Sprint's Snap.  The QWERTY-blessed Windows Mobile 6.1 phone has EVDO Rev.A support, VZ Navigator for audible turn-by-turn directions and a 1,500mAh battery.  It's also a global-roaming phone, and comes complete with international power adapters.
To enable that there's a pre-fitted GSM SIM card, and in a pleasant change for Verizon devices the Ozone offers WiFi b/g too.  Visual Voicemail is an option – for $2.99 per month – and the Ozone supports Exchange and webmail email, preloaded IM clients for AIM, Windows and Yahoo! Messengers, and a one-touch messaging shortcut key.
It's also surprisingly affordable.  Verizon are asking $49.99 (after a wretched $70 mail-in rebate) assuming you're willing to sign up to a two-year agreement, while VZ Navigator is the usual $9.99 per month add-on.  The Verizon HTC Ozone will be available from June 29th online, and in stores from July 13th.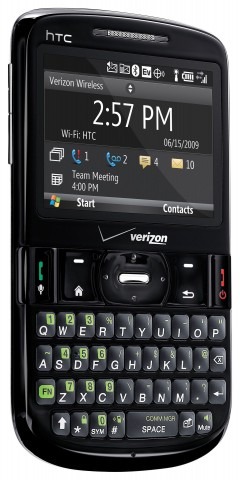 Press Release:
HTC Ozone Brings Verizon Wireless' Smartphone Lineup To New Heights

BASKING RIDGE, NJ, and BELLEVUE, WA — Verizon Wireless and HTC today introduce the Verizon Wireless HTC Ozone™. This easy-to-use smartphone combines a simple design with a host of connectivity options that include the nation's largest wireless 3G network, global roaming and Wi-Fi, making it a smart option and, at $49.99*, a great value for first-time smartphone users or savvy business professionals.

Available color: Black

Key features:

Ergonomically-designed QWERTY keyboard for fast and easy typing

Flexible connectivity options with Verizon Wireless' 3G network, global roaming capabilities and support for Wi-Fi

1500 mAh battery delivers extended operating time

Includes international charging adapters to stay powered up while abroad

Lifestyle features:

VZ Navigator(SM) – get audible turn-by-turn directions to more than 15 million points of interest and share the directions with others

Visual Voice Mail – view, delete, reply, listen to and forward voice mail messages without having to listen to prior messages or voice instructions

Mobile IM – connect with friends on AOL® Instant Messenger, Windows® Messenger and Yahoo!® Messenger

Mobile Email – access to popular e-mail services such as Yahoo!®, Hotmail®, AOL® and Windows® Live Seamless Microsoft® Exchange synchronization with Microsoft® Office Mobile for maximum productivity

Access to most frequently used features with a simplified "sliding panel" user interface

One-touch messaging key for quick connection to friends and family

* Price and availability:

The HTC Ozone will be $49.99 after a $70 mail-in rebate with a new two-year customer agreement. Customers will receive the rebate in the form of a debit card; upon receipt, customers may use the card as cash anywhere debit cards are accepted.

VZ Navigator is available for $9.99 monthly access, and Visual Voice Mail is available for $2.99 monthly access.

Customers can purchase the HTC Ozone beginning June 29 online at www.verizonwireless.com, by calling 1-800-2 JOIN IN, or through business sales channels. It will be in Verizon Wireless Communications Stores on July 13. For additional information on Verizon Wireless products and services, visit a Verizon Wireless Communications Store, call 1-800-2 JOIN IN or go to www.verizonwireless.com.