Verizon GizmoGadget, GizmoPal 2 wean kids on wearables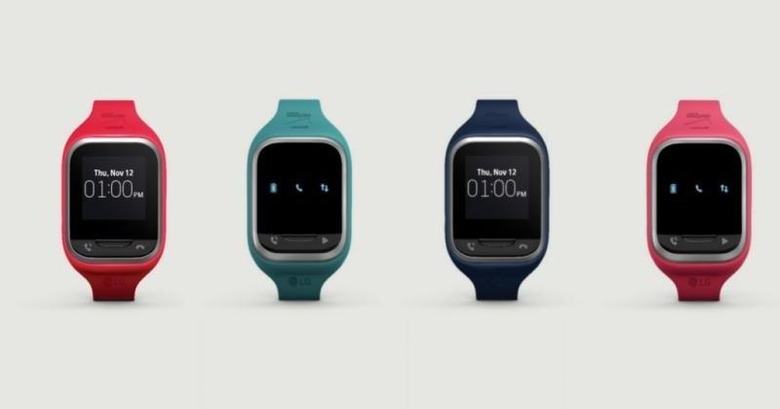 Who says only adults should get all the hi-tech, almost sci-fi wearable technology fun? LG and Verizon definitely don't think so.That is why the two are launching not one but two wearables made just for kids. The GizmoPal 2 is, as the name clearly says, is the successor to last year's gadget of the same name. The real start of the show, however, might be the GizmoGidget, which practically gives kids a colorful though slightly dumbed down smartwatch that also offers parents some peace of mind.
Like the GizmoPal before it, the GizmoPal 2 still has no screen. It does, however, have LED lights that alert kids if there's an incoming call or message. The band, which comes in colors of pink and light blue, does boast of IP67 dust and water proof rating, so both kids and parents can have worry-free active fun.
The GizmoGadget, pictured above, takes the technology up a few notches. First, there's the 1.3-inch color touchscreen that displays time as well as important notifications. The smartwatch, for this is truly one, also has a pedometer and a "jump rope counter", hopefully to encourage kids to be more active and playful. The GizmoGadget actually has two-way calling and can receive messages. While it can also send messages, kids will have to choose from a set of preset messages instead of composing their own. Verizon thinks kids will have fun imagining themselves as secret agents with these features.
Kids will also have fun customizing their wearables. Both will have interchangeable bands to fit kids' color preferences. The GizmoGadget's screen can be personalized with different themes. Since the GizmoPal 2 doesn't have such a screen, kids will have to make do with stickers instead.
For parents, the devices are also an extension of their watchful eyes. The GPS not only serves as child-finders but also allow parents to set safe zones and be notified when their child moves in or out of those zones. All of these can be set from the free GizmoHub app, available for both Android and iOS. The GizmoPal 2 will cost $79.99 while the GizmoGadget nearly twice that much at $149.99, both available starting November $5. They do require a $5 monthly access fee for those features, which can be added or removed from existing Verizon plans.
SOURCE: Verizon