Verizon Galaxy S III sales slip to July 12

Verizon's LTE version of the Galaxy S III has seen another slight delay, with the Android handset now not expected to ship until July 12. The carrier's online store has tagged on an extra two days to delivery estimates for the much-anticipated smartphone, having previously pegged the phone as dropping on July 10.
No reason for the slight change in schedule has been given, though it's possible that Samsung's manufacturing process could have  overstretched itself. The company pushed ahead with an ambitious multi-carrier launch for the third-gen flagship, with intentions to bring it to five carriers in the US almost simultaneously.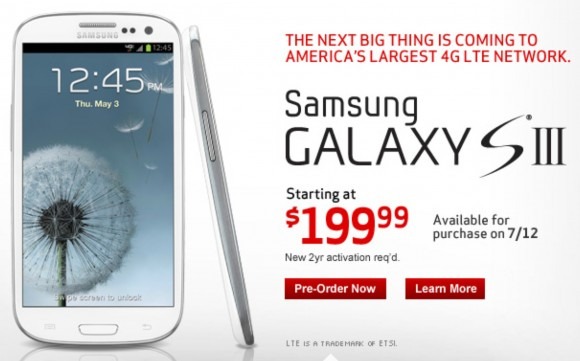 That hasn't exactly happened, though the somewhat staggered launch has been faster than with previous devices. Feedback has been positive, too; though the US versions use a Qualcomm Snapdragon S4 dualcore processor rather than the quadcore Exynos of the European model that preceded them, it's still one of the fastest phones around.
If you've been waiting for the Verizon model, it might all be worth it once you see the sort of speeds the smartphone's LTE connection is capable of. The phone is priced at $199.99 with a new, two-year agreement with mandatory voice and data plans.
[via Android Community]