Verizon Galaxy Nexus on sale now for $300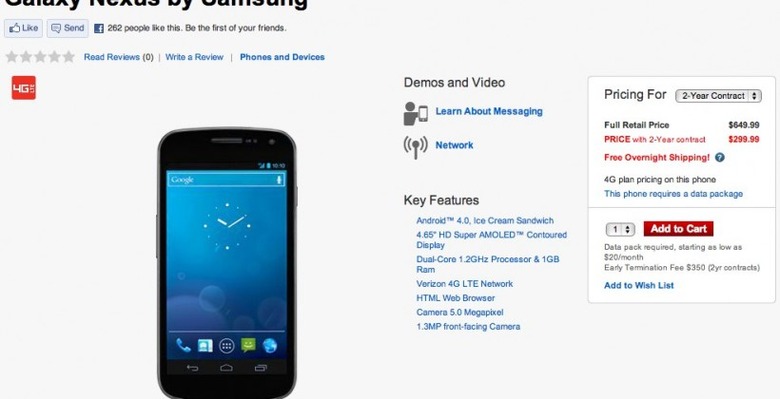 The
, Google's third Nexus smartphone and the first to include 4G LTE connectivity, has finally gone
, priced at $299.99 with a new, two-year agreement. Officially announced yesterday, the Samsung-made handset includes a 4.65-inch Super AMOLED HD 720p display, 5-megapixel camera with 1080p HD video recording, and runs
, Google's latest version of Android.
As we found in
, the new upgrade makes a significant difference to the usability of Android. Several of the features introduced in Honeycomb, Google's tablet-centric version of the platform, have been pulled across and integrated into a phone-scale UI, though ICS will also start showing up in tablets themselves come early 2012.
For now, though, the Galaxy Nexus is the only official way to get hold of ICS, and in the US that means heading down to Verizon and checking out their LTE version. Off-contract pricing is $649.99. Let us know in the comments if you're planning on picking one up.
For more on the Galaxy Nexus, check out the
of the HSPA+ model; we'll have full coverage of the new Verizon LTE version very soon!