Verizon Galaxy Nexus launching December 9th, according to leaked document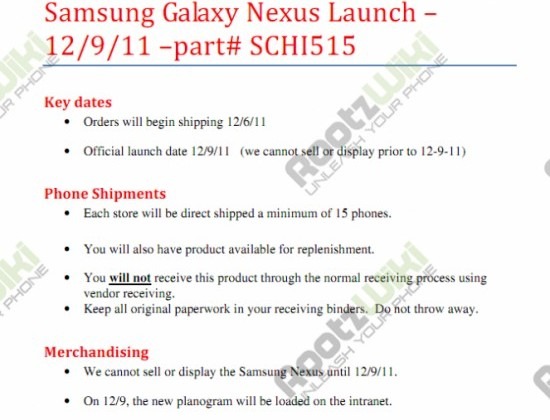 The Galaxy Nexus should be in stores and ready for purchase as early as December 9th according to a newly leaked Verizon e-mail. The latest news about the Nexus' release states orders will be shipped to Verizon stores on December 6th, however, they won't be on display or available for purchase until the 9th.
Previous leaks mentioned a release date for the Samsung Nexus to be December 15th. With the ship date (12/6) and release date (12/9) a mere three days apart, it seems the launch will be hastily done. One must wonder if the advertising of the launch will stir up enough commotion for consumers to get excited about Samsung's new release or if the launch will be a flop.
The Galaxy Nexus will feature the latest Android software, Android 4.0.1 Ice Cream Sandwich. The Nexus also boasts a 4.65-inch Super AMOLED HD touchscreen running at 1280 x 720 resolution, which makes for an amazingly crisp display. If you haven't caught up with our reviews of Galaxy Nexus, read them here.
[via phandroid]