Verizon Galaxy Nexus in-store packaging appears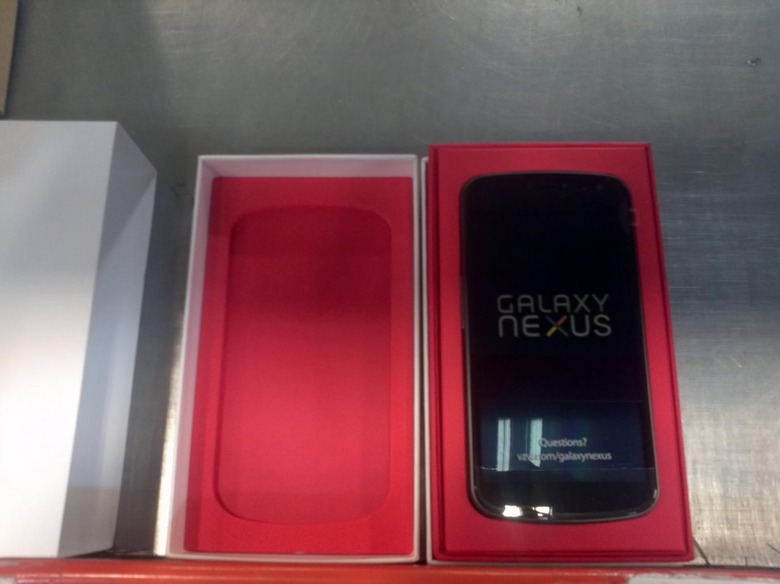 At this point we've got to assume that the folks at Verizon had all of this leak and pre-release panic planned for the Galaxy Nexus, because what we've been experiencing since the release of the international edition of this world's first Android 4.0 Ice Cream Sandwich device is nothing but heartbreak and agony over the release date for the Verizon version here in the USA – that said, here's the in-store packaging. In what appears very much to replicate the packaging of the Nexus S, the hero device for Android 2.3 Gingerbread, Verizon's package has padding inside the top of the box, a simple cradle of red for the device, and all the regular bits underneath. Could this be the sign we've been waiting for?
What we're thinking this means, that these leaked shots mean, that is, is a release date that's more than just imminent. What the most recent rumored dates are include an announcement this week with a release date for this Friday, though it's still unclear as to what this Friday will include. Will this Friday be the pre-release date start, or will we actually be able to head down to our local Verizon store and pick one up for ourselves? Either way, they're out there now – look!
Also note that we've seen the device started up in the wild and flipped around a few times, and that if you want to get a look at the international edition, that's no problem at all as we've had that one in hand for over a week. Check out our review of the international edition of the Galaxy Nexus as well as our review of the new operating system Ice Cream Sandwich (aka Android 4.0) right this instant and tell us the truth: will you pick up the Verizon edition? Cross your fingers for Friday!
BONUS: another leaked video for your pleasure:
[via XDA]