Verizon "Excited" About Windows Phone 7; Will Offer Devices As Soon As Microsoft Has Them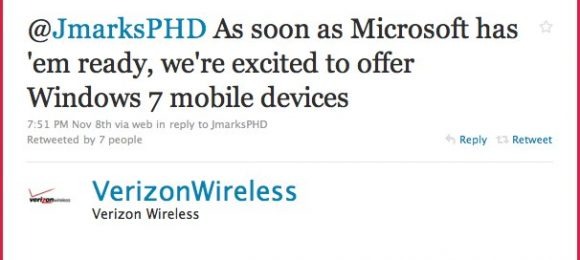 Verizon didn't seem particularly bothered, back in October, to be left out of the Windows Phone 7 launch fun; CEO Lowell McAdam said Microsoft was no longer a major player in the smartphone OS market, and that the company was "not at the forefront of our mind." Now, while analysts can't agree on how many Windows Phone 7 devices were actually sold in the US, it seems the halo effect of the new platform has rubbed off on Verizon; the carrier is now apparently "excited" to offer the devices as soon as they can get them.
"As soon as Microsoft has 'em ready, we're excited to offer Windows 7 mobile devices" Verizon Twitter
That's according to a tweet from the official Verizon account, and while we're assuming the person managing that account isn't McAdam himself, we're also guessing this new-found enthusiasm is the official party line. What exact devices they may be is unclear; Sprint has opted for the HTC 7 Pro, for instance, but Microsoft still apparently needs to finish fettling Windows Phone 7 for CDMA radios.
[via WPCentral]