Verizon Educates Users with Fact Sheet About Data Usage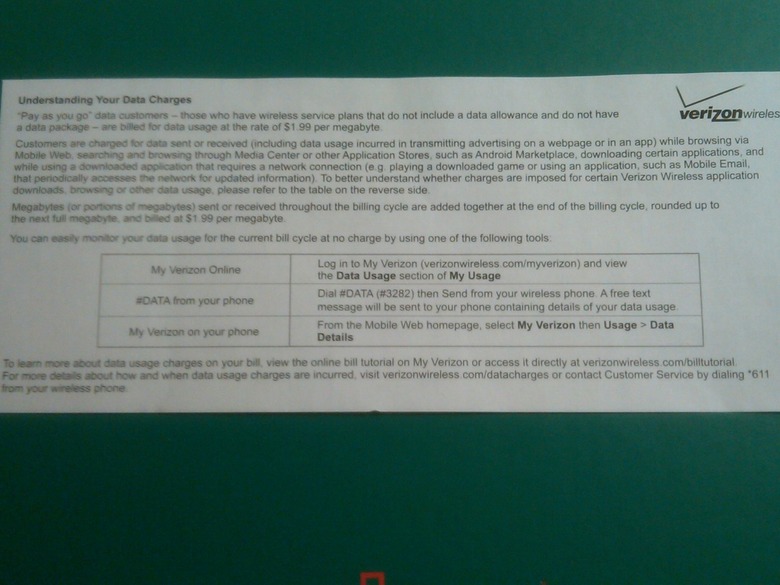 If you're not one of the thousands and thousands of world citizens that have subscribed to the idea that you need a smartphone to function normally in society, you undoubtedly have you reasons. Cost is of course prohibitive, and some people just don't see the need (weird!), but I'd wager to guess one of the most giant reasons people do not seek to further their understanding of this new handheld device world is the fact that they're confused about data costs. Verizon today seeks to change your mind with an easy-to-read fact sheet.
What this fact sheet appears to be is a response to last year's FCC fiasco for Verizon in which they were investigated on "mystery fees" billed to 15 million users of their services. Verizon's sheet (pictured above and below) is being sent out to subscribers who use their "pay as you go" data plans. One side of the sheet is title "Understanding your Data Charges" and shows all the ways a user can get charged for data usage, including downloading apps, mobile web surfing, using apps that regularly update themselves or your info, browsing online application stores, and more. It also shows the maniacal price of Verizon's pay as you go plan ($1.99 per megabyte) and shows its tools for tracking said data usage.
The other side of the sheet lists 15 Verizon apps often/always installed on Verizon-purchased smartphones including V Cast Music, which has no charges outside of its SONG ID feature, and Verizon's ESPN MVP app and VZ Navigator GPS app that don't use bandwidth for use but do for upgrades. Email, in contrast, uses data no matter what you're doing with it.
This move comes right on top of AT&T receiving a heavy charge insinuating it's been overcharging for iPhone and iPad data. Verizon spokeswoman Debi Lewis told Forbes today that these sheets did indeed find themselves born out of the "mystery fees" case last year, the case resulting in Verizon signing a consent decree noting how transparent they had to be in the future.
These sheets, in combination with free text message updates on data usage as well as a dedicated section inside it's user homepage "My Verizon," are meant to deter themselves from ever making as costly a mistake as was made last year. The case with the FCC last year cost Verizon a $25 million dollar fine as well as a $52.8 million dollar refund to customers.
Is this sheet, that site, and the text messages enough? Or is Verizon (and not to mention every other carrier with smartphones) bound to repeat a history of pain?* *History of Pain would be an amazing name for Slayer's next album. You hear me Slayer?!
Click the thumbnail in the gallery below to see the Verizon sheet larger.
[Via Forbes]