We all know by now that not all 4G is created equal. And with more and more of us relying on fast and reliable data connections these days as our lives revolve around accessing the internet and staying connected while on the move, its important to know how our network options stack up against each other. PC Mag took this to task with their road test of eight 3G and 4G networks in 21 U.S. cities.
[Above: Nationwide results]
The road test aimed to find out which network is the fastest for where you're located. And so, PC Mag sent six drivers across the country with loads of mobile phones equipped with custom software designed by Sensorly, a network testing firm, to see how fast 3G and 4G internet connections really are in 21 major markets. In their previous year's test, laptops were deployed, but this year it's all about smartphones to reflect how the majority of Americans use internet on the go.
However, the road test did not cover voice quality or dropped calls, focusing solely on internet uplink and downlink speeds via 3G and 4G wireless networks. The 21 markets are lumped into four major regions of Northeast, Southeast, Central, and West. Two additional categories of Rural America and Nationwide were also charted.
Verizon 4G LTE has come up on top for all four regions and not surprisingly snags the Nationwide category as well. AT&T manages to have the best connections in Rural America, but falls behind T-Mobile in connection speeds in all four major regions, with T-Mobile being almost twice as fast in some areas. Verizon must know that they're leading and they're getting ready to charge for their premium speeds come July when their unlimited data plans give way to new tiered data plans.

Northeast: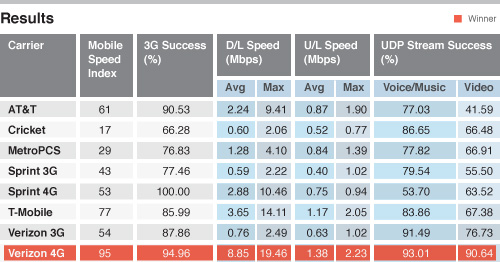 Southeast: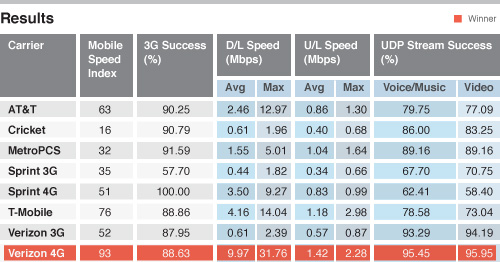 Central: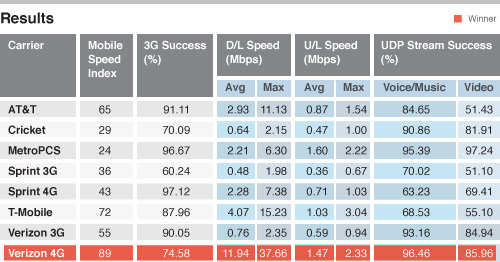 West: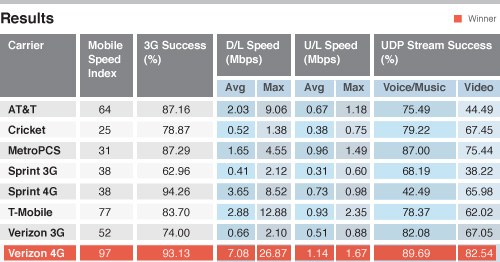 Rural America:


[via PCMag]