Verizon BlackBerry Tour preorders open: $200 on July 12th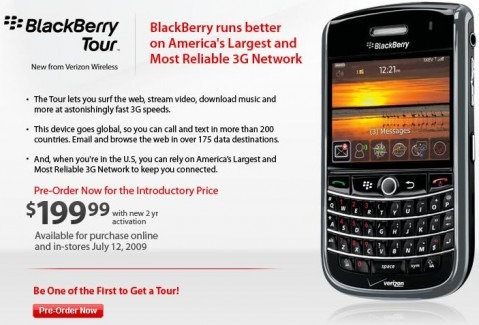 Verizon have released details of their version of the BlackBerry Tour, which we now know will be released on July 12th.  Priced at $199.99 with a two-year agreement, the Tour has both EVDO Rev.A for use in the US and UMTS HSPA 2100MHz support for high-speed access while roaming.
Other specifications include an HVGA 480 x 360 display, microSD card slot content with up to 16GB cards, and a full QWERTY keyboard.  No WiFi, but there's Bluetooth and GPS, plus a 3.5mm headphone jack and 3.2-megapixel autofocus camera.
Sprint are also set to launch the Tour, though they've not specified a release date as yet.  Instead, they've merely confirmed that the smartphone will land "later this summer" priced, like Verizon's, at $199.99.
BlackBerry Tour quick hands-on
[vms dc5d013b1abaebd2faed]
Press Release
TAKE A TOUR – A BLACKBERRY TOUR – ON AMERICA'S MOST RELIABLE 3G NETWORK AND BEYOND

Around the World or Around Town, Verizon Wireless Offers a Host of BlackBerry Smartphone Choices

BASKING RIDGE, N.J. – The highly anticipated global 3G BlackBerry® Tour™ from Research In Motion (RIM) will hit Verizon Wireless Communications Stores on July 12. Verizon Wireless announced today that customers can pre-order the BlackBerry Tour for $199.99 after a $70 mail-in rebate with a new two-year customer agreement online atwww.verizonwireless.com/tour.

The BlackBerry Tour joins the BlackBerry® Storm™, BlackBerry® Curve™ 8330 (available in either silver or pink), BlackBerry® Pearl™ Flip 8230 and BlackBerry® 8830 World Edition smartphones in the Verizon Wireless portfolio. The BlackBerry Tour is a 3G world phone, giving customers the option to make phone calls in 220 countries and to access e-mail and Internet in any of the 175 countries where Verizon Wireless provides data roaming services. It is also packed with features customers expect from industry leaders, including RIM's popular push-based mobile solution for e-mail; messaging (IM, SMS, MMS) and social networking; a 3.2 megapixel camera with geo-tagging and video recording; advanced multimedia capabilities; built-in GPS; full HTML Web browsing; and support for Verizon Wireless' Mobile Broadband Connect tethering service. It supports Verizon Wireless' V CAST Music with Rhapsody and VZ NavigatorSM services. BlackBerry Enterprise customers will find the stylish BlackBerry Tour has all the BlackBerry security profiles that make this an efficient business tool. A model of the BlackBerry Tour without a camera will also be available.

Customers can purchase either the BlackBerry 8830 World Edition Smartphone or the BlackBerry Curve 8330 for $49.99 after a $70 mail-in rebate with a new two-year customer agreement for a voice plan with e-mail feature or an e-mail plan. The BlackBerry Pearl Flip 8230 and BlackBerry Storm 9530 are available for $79.99 and $149.99 respectively after $70 mail-in rebates with new two-year customer agreements for a voice plan with e-mail feature or an e-mail plan. Customers receive rebates in the form of a debit card; upon receipt, customers may use the card as cash anywhere debit cards are accepted.

Email and Web for BlackBerry plans begin at $29.99 when added to any Nationwide voice plan. For information on Verizon Wireless' voice and data plans for BlackBerry smartphones, visit a Verizon Wireless Communications Store, call 1-800-2 JOIN IN or go to www.verizonwireless.com. Business customers may contact their Business Sales Representatives at 1-800-VZW-4BIZ.