Verizon BlackBerry Storm2 to offer MiFi-style 3G sharing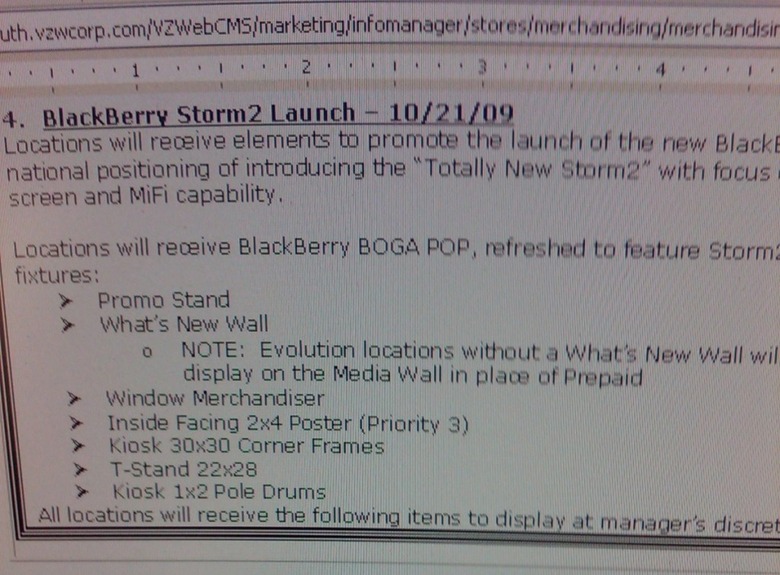 Mobile internet sharing looks to be one of the key sales messages for smartphones over the next few months; we've already heard HTC talking up their connection sharing app on the HD2, and now Verizon are tipped to be promoting MiFi action on the upcoming BlackBerry Storm2.  According to a leaked marketing page from the CDMA carrier, the "Totally New Storm2" would launch on October 21st with "MiFi capability"; however that date was later retracted.
It's unclear at this stage whether there's any true involvement with Novatel Wireless, who made the original MiFi Intelligent Mobile Hotspot, or if it's simply sales shorthand for sharing 3G over WiFi.  The latter seems certainly more likely, though as with the HD2 we don't know how many WiFi clients might be supported simultaneously (the MiFi itself can connect up to five at a time).
Applications to bridge a smartphone's internal 3G connectivity with a wired or wireless client (such as a notebook or netbook) isn't new, but given the rise in WiFi-enabled devices (and the potential for charging an extra tethering fee) it's obviously becoming a sales driver.  Unfortunately we may have to wait a little longer than the 21st to find out exactly what's the truth.
[via Engadget - Thanks George!]