Verizon BlackBerry Storm 9530 available now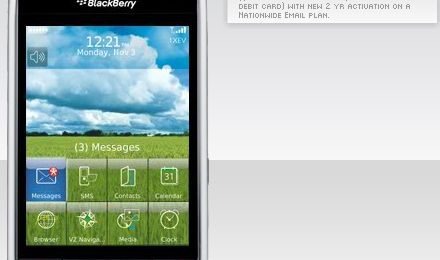 Coming as not at all a surprise, Verizon Wireless have released the BlackBerry Storm 9530.  Now available to order from the Verizon website, and presumably in stores across America once they open this morning, the Storm 9530 is priced from $199.99 with a new contract.  Still undecided?  Check out part one and part two of our Storm review.
Your two hundred bucks gets you the Storm, an international travel charger, a SIM card for accessing GSM networks when you're doing all that travelling, a USB cable to hook the smartphone up to your computer, an 8GB microSD card and the battery.  If our experiences are anything to go by, you might want to pick up another battery given that the Storm seems to guzzle power.
We found the handset to be impressive for a BlackBerry, but still displaying various teething pains that – hopefully – will be fixed with the upcoming software update.  SurePress, the unique "clicking" touchscreen, is more of a subjective matter, and we'd recommend would-be buyers stop by their nearest Verizon store to at least try it out before they sign up.
[thanks Paul!]