Verizon 4G LTE plans for 2011 detailed: 59 more markets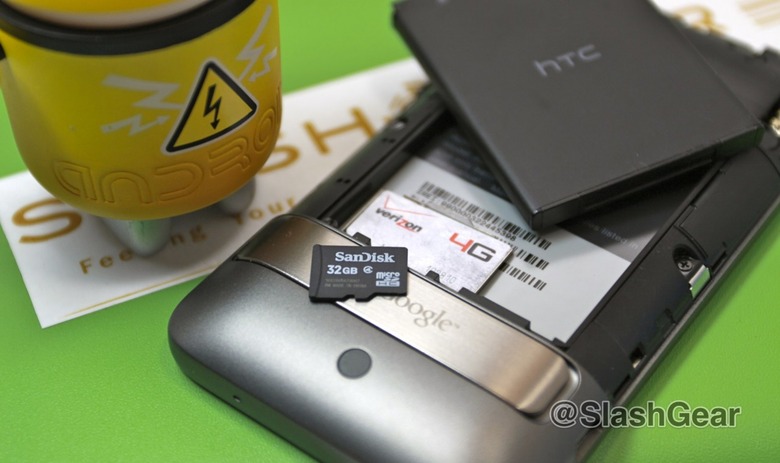 Verizon had promised a rapid roll-out of LTE, and the carrier is doing its level best to deliver on that. A further 59 markets have been added to the roadmap, all tipped to get 4G service by the end of the year. That will take Verizon's coverage to 147 US cities, promised on average 5-12 Mbps downloads and 2-5 Mbps uploads.
As we saw in our HTC Thunderbolt review, those estimates aren't over-ambitious either, and – as long as you have the power supply to back it up – right now Verizon's LTE is perhaps the fastest way to get online when mobile. There's a full list of the newly added markets in the press release below.
Press Release:
Verizon Wireless Brings 4G LTE To More Than 145 Markets By The End Of 2011
03/22/2011

BASKING RIDGE, NJ — Today, Verizon Wireless unveiled an additional 59 markets that will benefit from the world's first large-scale 4G Long Term Evolution (LTE) network by the end of this year. These newly named areas, added to the 39 initial markets launched in December 2010 and 49 markets announced at the Consumer Electronics Show in January, mean that consumers and businesses in at least 147 U.S. cities will have access to the fastest, most advanced 4G mobile network in America.

David Small, chief technical officer for Verizon Wireless, said, "Aggressively expanding this powerful network beyond major metro areas reflects the reality that the 4G LTE ecosystem is growing quickly. Our commitment to reach deep into medium-sized cities and smaller communities by the end of 2011 means the power of 4G LTE can be harnessed and provide advanced services to law enforcement, healthcare workers, educators, and other professionals, as well as to individual consumers, sooner than many thought possible. So whether you spend time in New York and San Francisco, or Harrisburg, Penn., Saginaw/Bay City, Mich., Huntsville, Ala. and Las Cruces, New Mexico, you can connect to the most advanced 4G network in the country."

The HTC ThunderBolt™, launched Thursday, March 17, is the first in a suite of consumer-oriented smartphones, tablets, hotspots and notebooks that will run on Verizon Wireless' 4G LTE network by the middle of this year. The new consumer devices join two USB modems from Pantech and LG which have been providing laptop users with speeds up to 10 times faster than the company's 3G network. In real-world, fully-loaded network environments, 4G LTE users should experience average data rates of 5 to 12 megabits per second (Mbps) on the downlink and 2 to 5 Mbps on the uplink.

Verizon Wireless is building its 4G LTE network with the same commitment to performance and reliability for which it has long been recognized. Verizon Wireless' consistent focus on reliability is based on rigid engineering standards and a disciplined deployment approach year after year. The company's 700 MHz spectrum gives Verizon Wireless specific advantages with 4G, including a contiguous, nationwide network license.

Verizon Wireless is also working with rural communications companies to collaboratively build and operate a 4G network in those areas using the tower and backhaul assets of the rural company and Verizon Wireless' core 4G LTE equipment and premium 700 MHz spectrum. Already, six rural companies have signed on to leverage Verizon Wireless' scale for infrastructure while keeping their customers on the cutting edge of technology.

Since 2007, when Verizon Wireless jump-started the global 4G LTE ecosystem with its selection of LTE for its 4G technology, the company has developed deep partnerships to spearhead a broad LTE ecosystem, including the LTE Innovation Center in Waltham, Mass., and an LTE Applications Center, slated to open in San Francisco this fall.

Verizon Wireless' 4G LTE network already reaches 110 million people, more than one-third of all Americans, and is available today in the following metropolitan areas:

Phoenix, Ariz.

Los Angeles, Calif.

Oakland, Calif.

San Diego, Calif.

San Francisco, Calif.

San Jose, Calif.

Denver, Colo.

Washington, D.C.

Ft. Lauderdale, Fla.

Jacksonville, Fla.

Miami, Fla.

Orlando, Fla.

Tampa, Fla.

West Palm Beach, Fla.

Athens, Ga.

Atlanta, Ga.

Chicago, Ill.

West Lafayette, Ind.

New Orleans, La.

Baltimore, Md.

Boston, Mass.

Detroit, Mich.

Minneapolis/St. Paul, Minn.

St. Louis, Mo.

Las Vegas, Nev.

New York, N.Y.

Rochester, N.Y.

Charlotte, N.C.

Akron, Ohio

Cincinnati, Ohio

Cleveland, Ohio

Columbus, Ohio

Oklahoma City, Okla.

Philadelphia, Pa.

Pittsburgh, Pa.

Nashville, Tenn.

Dallas-Ft. Worth, Texas

Houston, Texas

San Antonio, Texas

Seattle/Tacoma, Wash.

Additional areas to be covered by Verizon Wireless' 4G LTE network in 2011 include:

Decatur, Ala.

Huntsville, Ala.*

Mobile, Ala.*

Montgomery, Ala.*

Fayetteville-Springdale-Rogers, Ark.

Fort Smith, Ark.

Little Rock, Ark.*

Tucson, Ariz.

Bakersfield, Calif.

Fresno, Calif.

Modesto, Calif.

Sacramento, Calif.

Salinas-Monterey, Calif.

San Luis Obispo, Calif.

Santa Barbara, Calif.

Stockton, Calif.

Colorado Springs, Colo.*

Fort Collins, Colo.

Fairfield, Conn.

Hartford, Conn.

New Haven, Conn.

Daytona Beach, Fla.

Fort Myers, Fla.

Gainesville, Fla.*

Lakeland-Winter Haven, Fla.*

Pensacola, Fla.*

Sarasota-Bradenton, Fla.*

Tallahassee, Fla.*

Augusta, Ga.*

Hilo, Hawaii

Honolulu, Hawaii*

Kahului-Wailuku, Hawaii*

Lahaina, Hawaii*

Davenport, Iowa

Iowa City, Iowa

Boise-Nampa, Idaho*

Bloomington/Normal, Ill.

Carbondale, Ill.*

Champaign, Ill.

Rockford, Ill.

Springfield, Ill.

Fort Wayne, Ind.

Indianapolis, Ind.

Lafayette, Ind.

Wichita, Kan.*

Louisville, Ky.

Baton Rouge, La.*

Hammond, La.*

Springfield, Mass.

Worcester, Mass.

Hagerstown, Md.

Flint, Mich.*

Grand Rapids, Mich.

Lansing, Mich.

Saginaw-Bay City, Mich.

Starkville, Miss.

Asheville-Henderson, N.C.

Fayetteville-Lumberton, N.C.*

Greensboro-Winston Salem-High Point, N.C.*

Raleigh-Durham, N.C.*

Wilmington, N.C.*

Fargo, N.D.

Omaha, Neb.

Albuquerque, N.M.

Las Cruces, N.M. Santa Fe, N.M.

Reno, Nev.

Albany, N.Y.

Ithaca, N.Y.

Syracuse, N.Y.

Dayton-Springfield, Ohio*

Lima, Ohio

Toledo, Ohio

Tulsa, Okla.*

Portland, Ore.

Allentown-Bethlehem-Easton, Pa.

Erie, Pa.*

Harrisburg, Pa.

Johnstown, Pa.

Scranton/Wilkes Barre, Pa.

State College, Pa.*

Charleston, S.C.*

Columbia, S.C.*

Greenville-Spartanburg, S.C.*

Hilton Head, S.C.*

Sioux Falls, S.D.*

Chattanooga, Tenn.*

Clarksville, Tenn.*

Cleveland, Tenn.*

Dyersburg-Union City, Tenn.

Jackson, Tenn.

Kingsport-Johnson City, Tenn.-Bristol, Va.*

Knoxville, Tenn.*

Memphis, Tenn.*

Beaumont-Port Arthur, Texas*

Bryan-College Station, Texas*

El Paso, Texas

Temple-Killeen, Texas

Provo-Orem, Utah*

Salt Lake City-Ogden, Utah*

Olympia, Wash.*

Centralia, Wash.*

Spokane, Wash.

Charleston, W.Va.*

Madison, Wis.*

Milwaukee, Wis.*

* Indicates a metro area previously announced in 2011

Visit www.verizonwireless.com/lte for more information about Verizon Wireless' 4G LTE network.